The majority of travellers will arrive in Iceland by way of Keflavik airport, situated on the Reykjanes Peninsula, within the Capital Region. Their first steps in Iceland will be a mere forty minutes drive from its quaint, yet vibrant capital city, Reykjavik, where most choose to stay for short-term accommodation. But what of Iceland's other regions, and are they worth your consideration when weighing up a place to stay? In this article we will discuss what each region has to offer and why it is worth a visit. Along with that we bring suggestions for accommodation options in each region.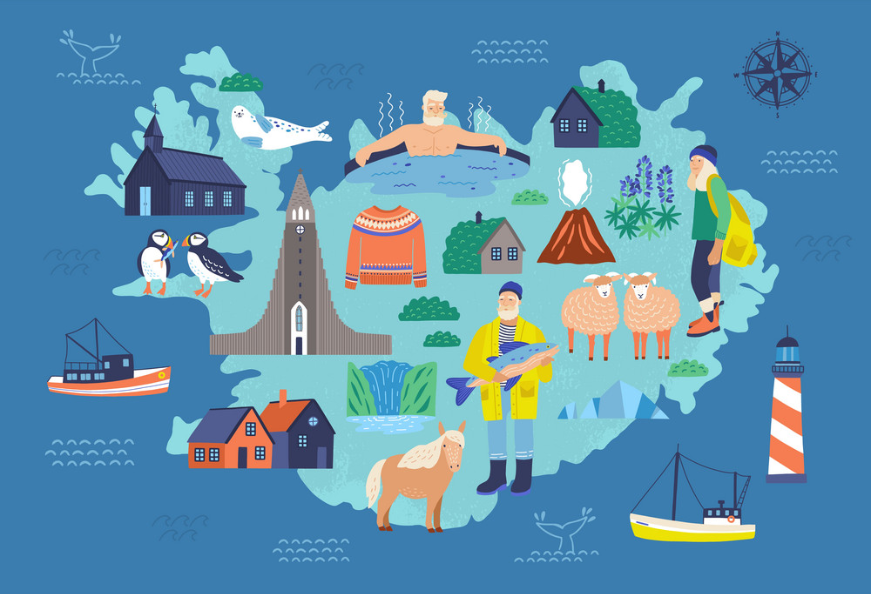 Iceland's list of regions read as though they were scrawled across an ancient and mystical map; the Westfjords, the Eastfjords, the Highlands, the Westman Islands, the Snaefellsnes Peninsula, the South Coast, the North. Just their very names are irresistibly enticing, drawing you there on your own personal quest with the promise of discovery and adventure.

Given the sheer size of the land of ice and fire—when considering the entirety of its landmass, that is—one should not be surprised to find each region has its own distinct character, as well as a multitude of natural attractions sure to amaze even the most hardened traveller. After all, Iceland is a big country, and there can be no adjusting to the fact that in order to see it all, one will have visit more than once.

But choosing exactly where to stay on your first trip to Iceland is most certainly a challenge worthy of your time. After all, you have to decide which attractions and activities are important to you, as well as whether you'd prefer a plush inner city apartment, a simple hotel room or a cosy, farm-style cottage.

Then it's a matter of finding accommodation in the area that best fits your interest—a task made easier, no doubt, by Bungalo's handy search system.

So, before making any further decisions, let us first provide a brief overview of each of Iceland's majestic regions so that you can choose the best fit for your time in the country.

The Capital Region

As previously mentioned, this is Iceland's most popular region, home to the capital city, the beginnings of the Golden Circle sightseeing route (including Þingvellir National Park, Gullfoss waterfall and the Geysir geothermal area), and the epicentre for most of the major tourist activities on offer.

The most popular of these, all of which are easily accessible from Reykjavik and the surrounding area, are whale watching, snorkelling, guided sightseeing, ATVs and buggies, glacier hiking and caving, to name only a handful. For first-timers in the country, especially those only on a short stay, the Capital Region provides more than enough to keep you occupied.

Naturally, accommodation options in the area are abundant. Two options in Reykjavik itself include Centerspot Holiday Home and Brattagata Guesthouse.

Two properties outside of the city that may be to your liking are Heytjörn in Mosfellsbær, a family friendly home with two bedrooms and staggering surrounding nature, and this two-story home in Hafnarfjörður, built with three bedrooms and spacious living rooms.
If you want to find other accommodation options in the Reykjavik area, then take look here.
The Reykjanes Peninsula

The terrain of the Reykjanes Peninsula is harsh, treeless and volcanic, enveloped by distant mountain ranges and rough and rugged shorelines. It is the location of the famed Blue Lagoon Spa, known for its celebrity guests and healing silica mud, as well as 'the Bridge between the continent' where visitors can garner insight into the shifting Eurasian and North American tectonic plates that make up Iceland's surface.

Nearby to Grindavík, guests could choose to stay in one of the modernist and luxurious Harbour Cottages, each of which provides a flat-screen TV, high-speed Wifi and easy accessibility to the town's restaurants and cafes. And that's not to mention their enviable view over the ocean and surrounding countryside, nor there close proximity to the Blue Lagoon Spa.

Another property nearby to the spa is this peaceful three bedroom villa in Vogar. This family house comes with a fully equipped, open-plan living room, kitchen and dining room, as well as a hot tub on site. A final option could be this recently renovated cottage near Sandgerði, with a spacious and cosy interior, with surroundings sporting eclectic birdlife and gorgeous panoramas.

The Westfjords

The Westfjords is one of the country's most rarely visited parts, a landscape of staggering cliffsides and sweeping green meadows, comprised of nature reserves, bounding Arctic foxes and elegant birdlife.

Whilst many do not get to visit the Westfjords during their time in Iceland, this does add to its appeal; the region is wild, free of development, alluring in its pristine and untouched aesthetic. True nature enthusiasts will find no better a place to spend some time in isolation, a remote paradise that provides a true insight into how timeless this landscape can be.
Accommodation options in the Westfjords are plentiful, so we will name only a handful. For one, take this cottage in Bardastrond which comes ready with 3 bedrooms, a porch with BBQ and garden and quality private bathroom. This cottage can be found nearby to Patreksfjörður.

Another choice is Blomsturvellir Holiday House, originally built in 1929 in the historic town of Súðavík, but built upon in the seventies, creating a timeless feel. On the south side of the house is a sun deck with views of untouched, beautiful nature.

Súðavík is a short distance away from the other well-known town of Ísafjörður, making this property an ideal choice when planning a trip around the Westfjords.
Take a look at other vacation rental options in the Westfjords here
West Iceland

West Iceland's most famous attractions include the waterfalls Hraunfossar and Barnafoss, both of which can be found within a short drive of one another. Other interesting sites include Europe's most powerful hot spring, Deildartunguhver, and the enormous lava tube, Víðgelmir, perfect for a deep caving expedition.

Properties in West Iceland include such cottages as Flankastaðir, found in Borgarfjörður. With two bedrooms and a truly luscious garden, this holiday home is a fantastic choice for a base for those hoping to explore the west in more depth. Another quality option could be Múlakot Cottages, near to Borgarnes. The summerhouse is bestowed with two bedrooms, geothermal heating and a terrace with a view.

The Snæfellsnes Peninsula, otherwise known as "Iceland in miniature", is another one of the island's western regions, known most famously for its domineering, glacial volcano, Snæfellsjökull and the black sand beach, Djúpalónssandur. There can be no forgetting the glorious mountain, Kirkjufell, fresh from its background role in HBO's Game of Thrones series.

Aside from the memorable natural attractions on offer, there are a wealth of charming coastal villages that demand the attention of any visitor. Thankfully, the vast majority of these villages and attractions are nearby to many of the Snaefellsnes properties listed on Bungalo.

For instance, this three-bedroom house in Grundarfjörður is located right at the foot of Kirkjufell mountain, making it one of the most desired spots in the whole of Iceland. A second option could be Snæfellsnes Cottage in Hellissandur. Able to sleep up to seven people, this property can be found just east of Snæfellsjökull National Park.
These just a few of many accommodations in the west of Iceland, see more options here.
East Iceland

What can be said of the radiantly beautiful Eastfjords that would rightfully capture the balance between its relaxed ambience, cultural gemstones and wildly dramatic scenery? To begin, I would mention that it holds the country's largest forest, Hallormsstaðarskógur, one of the locals' favorite spots for camping in the summer.
Hallormsstaðarskógur sits on the banks of Lake Lagarfljót, said to be home to a giant, serpent-like creature known as 'The Wyrm'. Other must-see destinations include the breathtaking Vestrahorn mountain, Papey ("Friar's Island") and the port of Seyðisfjörður, complete with its smokey Nordic architecture.

There are many different accommodation options in the Eastfjords, the first of which is the one-bedroom Future Apartment, boasting views over Djúpivogur and its picturesque marina. The apartment is close by to quality restaurants, eclectic hiking trails, a swimming pool and golf course.

Another option could be Ekra Cottage, located in the town of Egilsstaðir. With two bedrooms and room to sleep five people, this holiday home contains a spacious living room and kitchenette with a grill on the terrace. Aside from that, one can enjoy the property's views over Lake Lagarfljót. Another option, also nearby to Egilsstaðir, is the bedroom vacation rental, Litla Bjarg (meaning Little Rock).
Look at other accommodation options in Iceland´s East region here
The South Coast

The South Coast is, undeniably, one of the most popular sightseeing strips in the whole of Iceland. One can find a wealth of unforgettable natural sites, including the waterfalls Seljalandsfoss and Skogafoss, and the black sand beach, Reynisfjara, with its Reynisdrangar rock stack and the cosy nearby village of Vík í Mýrdal.

At the very end of the South Coast, visitors are always recommended to see the glittering Jökulsárlón glacial lagoon, where icebergs float peacefully amidst the beauty of Vatnajökull National Park.

Along the South Coast, it is possible to undertake any number of activities, from horse riding to ice caving and even paragliding. There is no end to the possibilities on offer, making this one of the more sensible locations in which to stay should you be hungry for some adrenaline and adventure.

The Golden Circle Luxury Country Villa is just one example of an excellent accommodation choice on the South Coast. Situated in Laugarás, this villa has four bedrooms but is capable of sleeping up to nine people. Two other options include Hestheimar Cottage, one of six with one bedroom properties that boast a single bedroom with two beds, or Mid Hvoll Cottage in Vík í Mýrdal.
Check out more vacation rental options in the south of Iceland here
The North Iceland

Those familiar with Iceland's popular television Trapped might consider the north of Iceland to be fairly inhospitable, with high winds and constant blizzards. While this might be true for only short periods in the winter, the majority of the year reveals North Iceland for what it is, a landscape of untold beauty and possibility just bursting with fascinating things to see and do.

For starters, the North is home to the town of Akureyri, one of the best places in the country to try whale watching, as well as possessing fabulous local cultural attractions, including the botanical gardens and countless museums. One should also visit the Mývatn region; an enormous lake is surrounded by dried volcanic fields, geothermal valleys like Námaskarð and the black fortress, Dimmuborgir.

One of the area's most visually pleasing properties is Casa Magna in Akureyri. This proud-looking, wooden home is capable of sleeping ten people and boasts large windows with fantastic views of Eyjafjörður. There is also a balcony and terrace, complete with a hot tub.

Located on the seafront, Vellir in Grenivík is a three-story property with two bedrooms capable of sleeping up to eight people. Without a doubt, the most beautiful aspect of Vellir cottage is its incredible views over the fjord and mountains. Finally, Brúnastaðir in Skagafjörður has ten different beds, disabled access and a glittering nearby lake, as well as a range of stunning hiking trails on Fljótafjöll.
If you want to see more accommodation options in the north of Iceland then check out the selection here.