One of Iceland's most alluring draws for visitors is the opportunity to see the Northern Lights, or Aurora Borealis, a common ambition on most people's bucket list. But just what they are they, and what accommodation choice is most beneficial towards this experience? Where in the country can they best be observed? Read on to find out all you need to know about where to stay in Iceland to see the Northern Lights.

What Are The Northern Lights?

The Northern Lights are many things to many people. To some, they are a longstanding and mystic yearning that, after years and years of mere imagining, erupt in a flurry of colour.

To artists and photographers, they are one of the greatest inspirations known to man, whereas the spiritually-minded will have no trouble perceiving the lights as proof of a higher power.

While no less amazed, the scientists who study the lights call them the Aurora Borealis, if observed in the Northern Hemisphere, and the Southern Lights, or Aurora Australis, when seen below the equator. Thanks to their knowledge, we now know that this dazzling light show appears when electrically-charged particles (i.e. electrons, protons, etc.) emitted from the sun collide with such elements as oxygen and nitrogen in the earth's atmosphere.

Usually, the aurora will only appear given openings in the sun's atmosphere, either in the form of sunspots or coronal holes, an assumption that was made as far back as 1880.

Protons and electrons are swept into the earth's atmosphere by powerful solar winds. Given that the magnetic field is weaker around the North and South Pole, this is where spotting the aurora is most common.

When they do appear, it is unlike anything else. Waving, dancing and spinning in patterns known to science as arcs, streamers, rippling curtains or shooting rays, this spectacle will most commonly appear as a luminescent green, with reds, yellows, pinks and oranges being more uncommon, but certainly not unheard of.

When Do the Northern Lights Appear?

Exactly when and where the Northern Lights appear emblazoned across the sky is an imprecise science, but there are certain prerequisites that can at least provide stargazers with some idea as to when they might.

For one, the Northern Lights are only visible against the black backdrop of night, despite the fact that, in reality, they are constantly dancing overhead, only we are unable to see them with the naked idea.

The Northern Lights appear during the long Icelandic winter, with observable months being from late-August to mid-April. However, from the end of September to the end of March, darkness overwhelms the country from 06.00 PM, making this the opportune period for aurora hunters.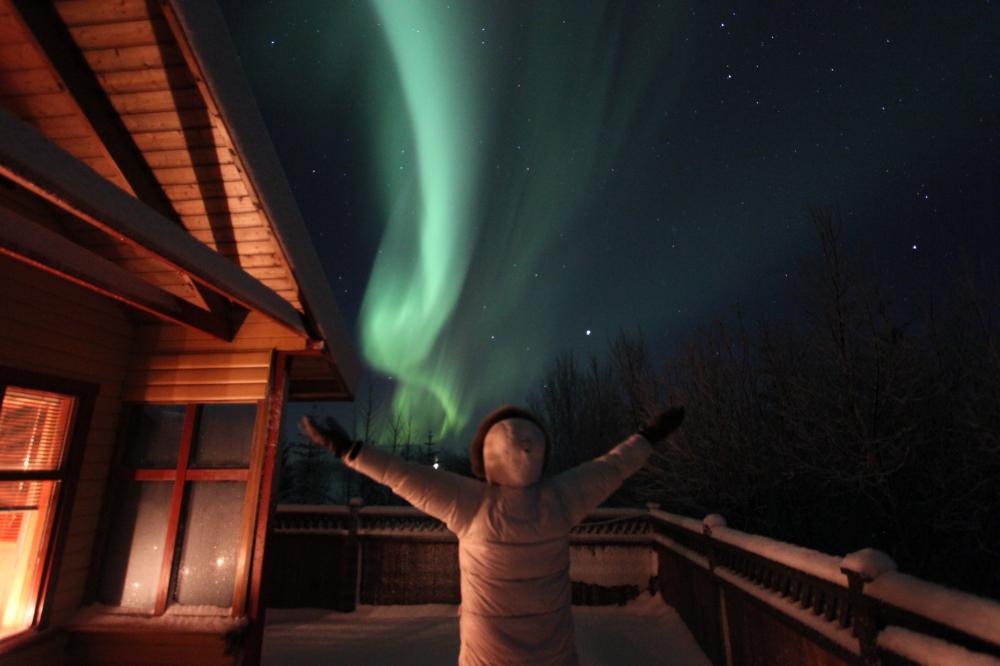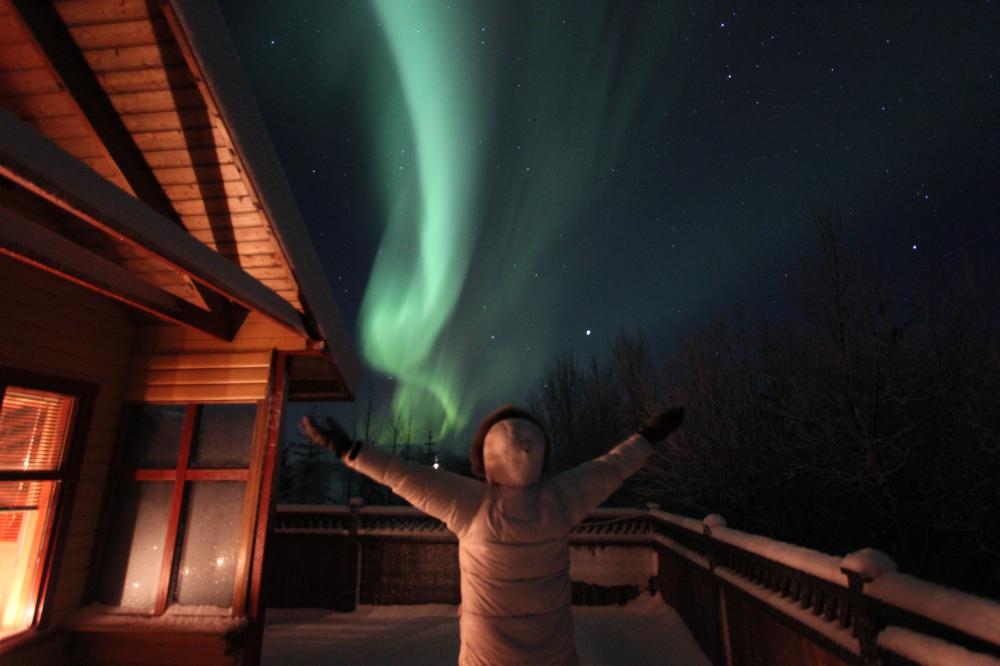 With that being said, there can still be no assurances. The current limits of scientific discovery mean that people are only able to predict the number of sunspots on our solar system's star, not their frequency or strength, hampering our ability to anticipate or preplan.

But meteorologist do their best and visitors in the country should keep a close eye on the latest aurora forecast which not only shows the strength of the solar activity, but also cloud coverage as you need clear skies to witness these dancing lights.

Where to See The Northern Lights in Iceland

Exactly where the Northern Lights will appear, let alone when, is another of the universe's grand mysteries. One way of maximising the strength of their visibility, however, is to travel out where there is a little light pollution as possible—in other words, out of the city and into the countryside.

In all honesty, it's not about where you might see the Northern Lights, it's about where is best. After all, you could very well see them driving on back country roads, when all of a sudden, they appear above you, stretching outward over snow-blanketed meadows, partially hidden behind peaked and towering mountainscapes, flowing out across the ocean towards the horizon line.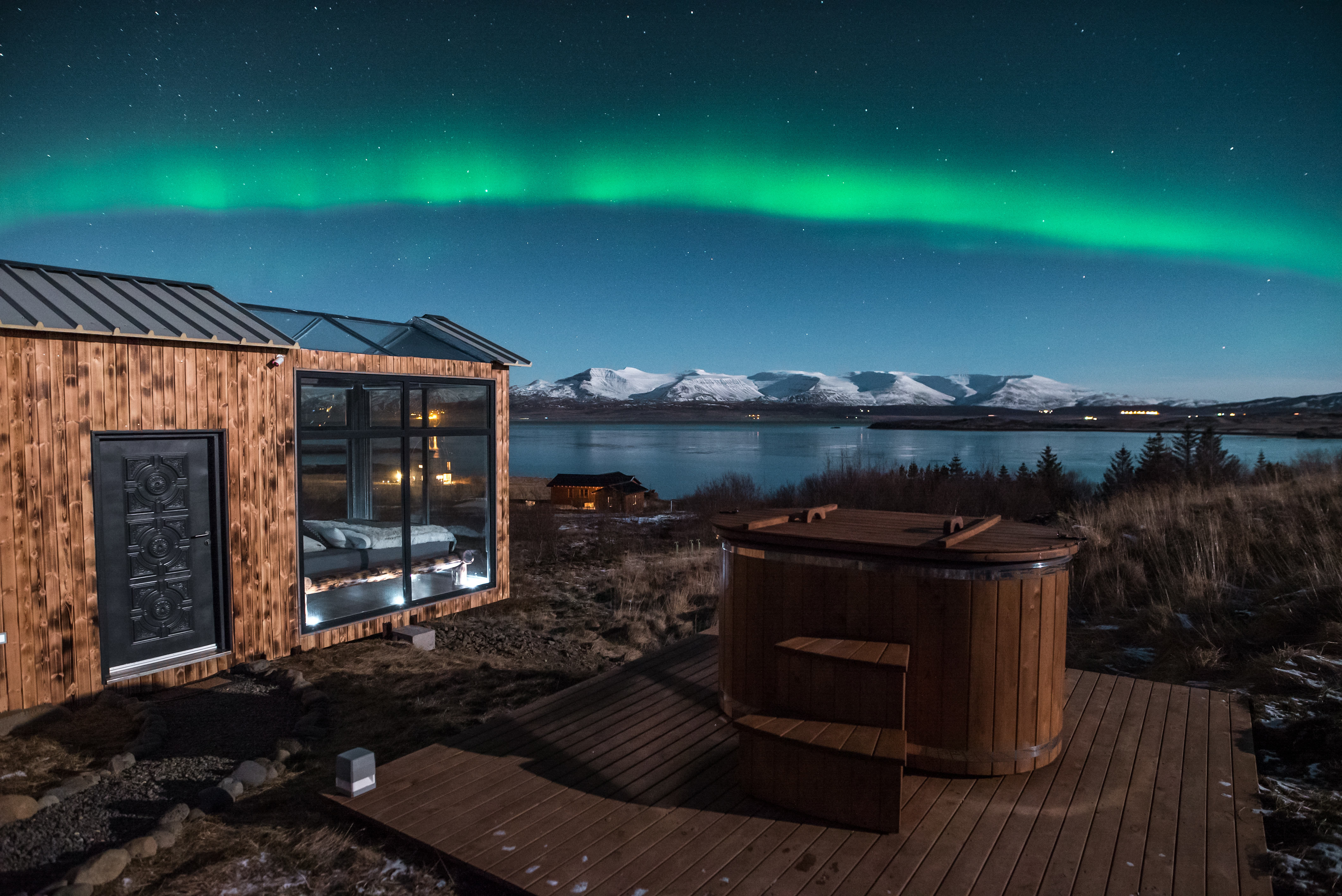 You could see them lounging and relaxing your private hot tub after a long day exploring Iceland's most popular natural attractions. You could see them in the early morning in North Iceland, the late evening on the South Coast, or at midnight, appreciating them over the floating icebergs of Jökulsárlón glacial lagoon. There just really is no telling. It is as much about luck as it is being prepared to make the most of an opportunity.

Of course, one way to increase your chances is to partake in a guided Northern Lights tour, undertaken with one of the many operators working throughout Iceland. Professional Aurora hunters are not only experienced when it comes to tracking down the darkest sightseeing spots, but can also provide you with useful advice when it comes to photographing them, and even share fascinating stories about how people throughout history have interpreted the lights, be it as ancestral spirits or a fertility omen.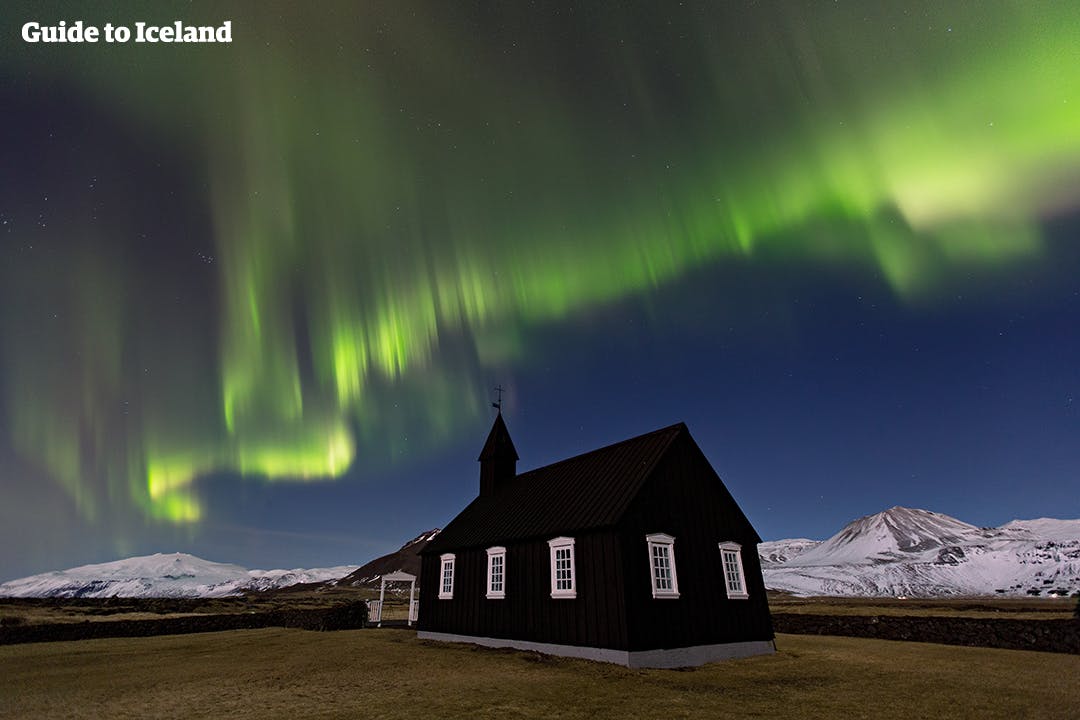 Naturally, professional and aspiring photographers will want to ensure that they are at the right location to see the Northern Lights if possible, taking into account the unique beauty of Iceland's landmarks. For instance, Iceland's most photographed mountain, Kirkjufell, found on the Snaefellsnes Peninsula, makes an incredible subject and foreground should the aurora appear behind it. The same could be said for Mount Vestrahorn, in the Eastfjords, Hallgrímskirkja Lutheran Church in downtown Reykjavík or the waterfalls, Skógafoss and Seljalandsfoss, located on the picturesque South Coast.
Bungalo Cottages for Northern Lights Viewing

The best cottages for viewing Northern Lights are those found out in the dark wilderness, those without light pollution diluting the experience. When choosing the perfect cottage—especially for those whose major ambition is to see the aurora borealis—a number of aspects should be taken into account to make sure the sighting is the most enjoyable, memorable and untarnished that it can be.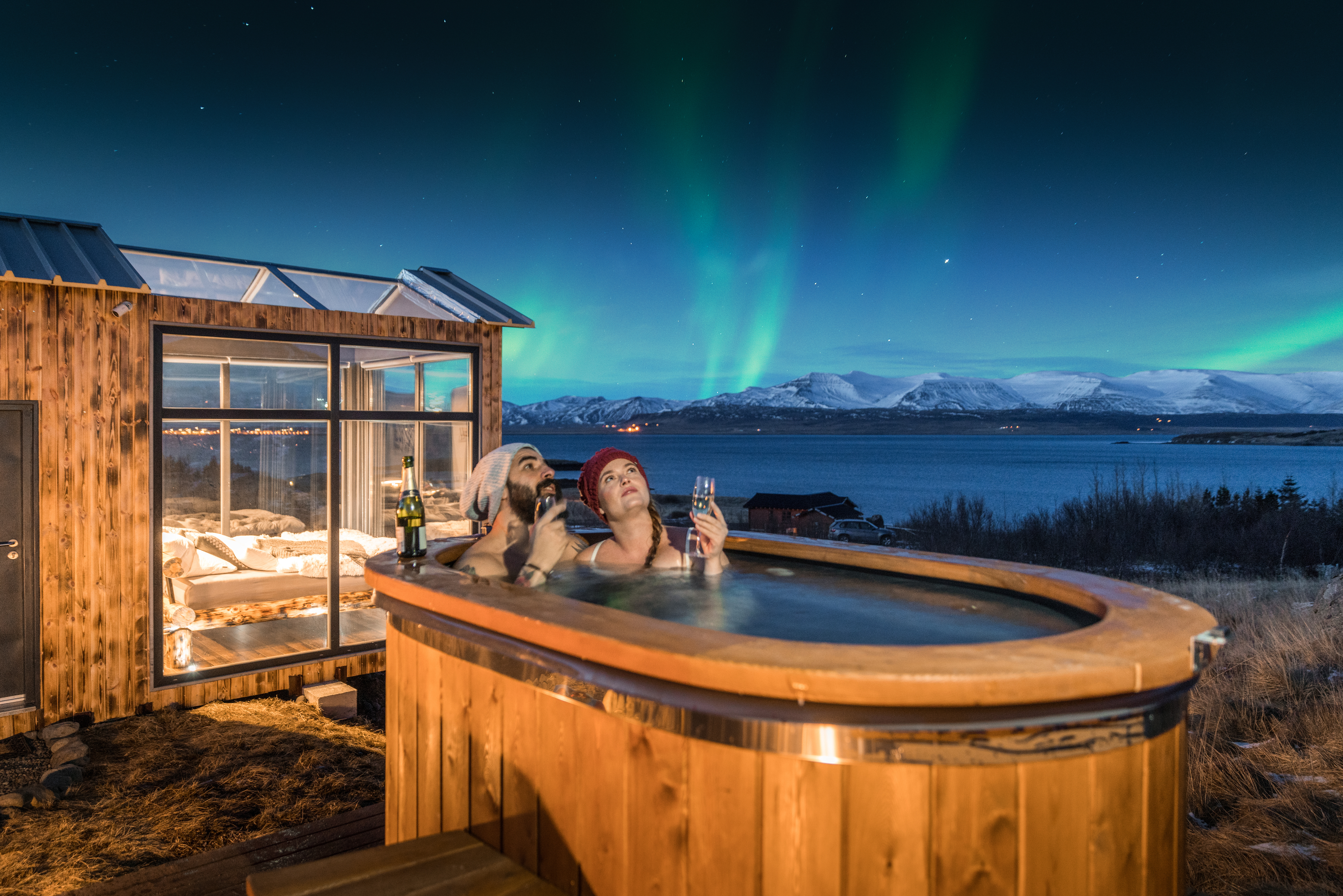 For example, a spacious patio or terrace, preferably with heat lamps and comfortable seating arrangements, makes sitting and watching the sky throughout the evening a true pleasure, one that can happily be mixed with socialising over a fulfilling cup of mulled wine—the perfect winter beverage! A fantastic addition to your choice of cabin, cottage or bungalow is a private hot tub which makes Northern Lights spotting all the more enticing.

---
See Also: Northern Lights Tours in Iceland

---
Those staying in North Iceland have a plethora of choice when it comes to accommodation. For example, 14 km from downtown Akureyri guests could choose to stay at one of the cabins of Silva Holiday Home, a group of cosy properties that are surrounded on all sides by the spectacular slopes of Eyjafjörður. Each house has its own private veranda with outdoor seating facilities and together share a hot tub. An alternative choice could be this large cabin, complete with hot tub, that overlooks Lake Ólafsfjörður, boasts free Wifi and sleeping room for seven people.

Visitors to Iceland's South Coast could choose from a variety of options, including this Mið-Mörk Holiday home, complete with 5 bedrooms, spacious garden and stunning mountain views. This property is located nearby to the famous Eyjafjallajökull glacier, making it one of the more epic spots to view Northern Lights. Another option could be this two storey farmhouse situated between Vík í Mýrdal and Kirkjubæjarklaustur, which comes with a large viewing terrace and beautiful mountain views.

And what of guests to the dramatic Eastfjords? Well, this newly built property, Mjóeyri Cottage, in the Eskifjörður area, can sleep 7 people and sports a balcony, porch and fully furnished living room and kitchen. Langahlíð cottages are another option, with their impressive mountain and lake views, hot tubs and propane BBQ (…just in case you fancy grilling some sausages while waiting for the aurora appear.)

If you're looking for some true luxury, however, then this gorgeous home in Breiðdalur valley will more than suit your needs. Found 80 km south of East Iceland's biggest town, Egilsstaðir, this property has a magnificent fireplace, fantastic surrounding scenery complemented by a hot tub, sauna and fantastic terrace.

The Snæfellsnes Peninsula, one of the most scenic and varied regions in the country, is also a great place to see the Northern Lights for the first, second… or any time, let's face it. Property choices in the area include the iconic Snæfellsnes Cottage, located a short distance from Hellissandur town and Hálsaból, the latter of which is found near the iconic Kirkjufell mountain.

Some Final Thoughts

Wherever you choose to stay during your winter holiday in Iceland, make sure to keep your eyes to the skies, for there really is no telling when and where this unforgettable light display will rear. Each time you leave your accommodation, wherever it might be, make sure to bring your camera, for this is one experience you will want to recall time and time again.

Welcome to Iceland, and happy hunting!