Where are Iceland's famed Westman Islands found, and just what is there to see and do there? What are the islands' history, and how does one travel there? What accommodation options are available for guests to the Westman Islands? Read on to find out all you need to know about the Westman Islands.

The Westman Islands, otherwise known as the Vestmannaeyjar Archipelago, can be found off Iceland's stunning South Coast, and are comprised of 15 separate isles and approximately 30 rock stacks. These islands are—geologically speaking—fairly young, having been formed approximately 10,000 – 12,000 years ago through a series of subterranean volcanic eruptions. Covering a total area of 16.3 square kilometres (6.3 sq mi), the Westman Islands are one of Iceland's best kept secrets.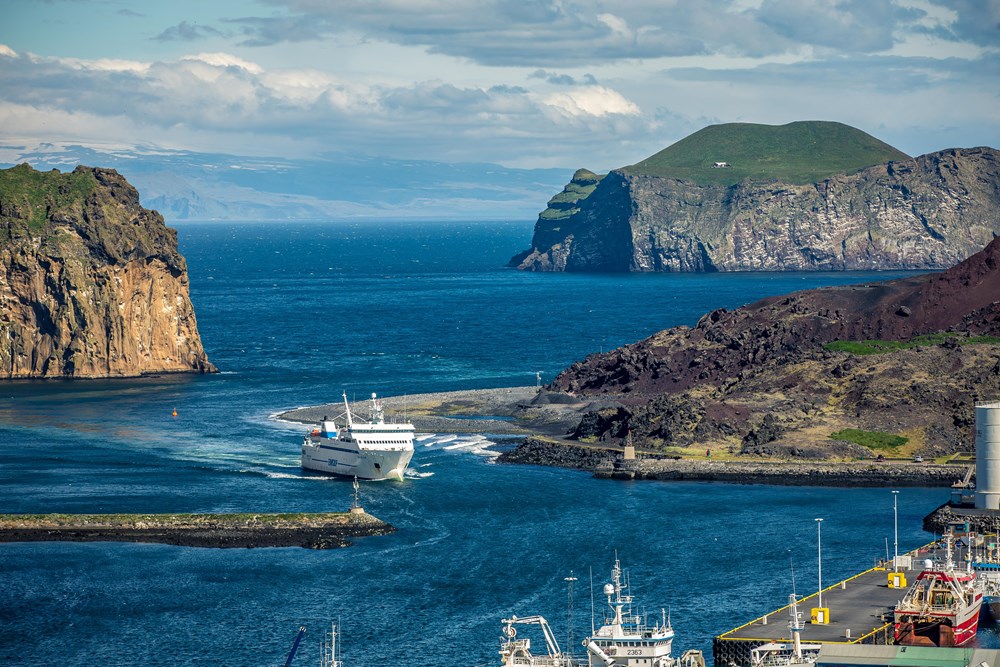 The archipelago's largest island, Heimaey (13.4 km²), is the only one permanently inhabited and is home to roughly 4500 people, thus is rightfully considered the cultural centrepoint of the Westman Islands. In this vain, Heimaey translates to "Home Island" and can be found 4 nautical miles (7.4 km) from the South Coast.

Prospective visitors to Heimaey can reach the island in one of two ways, either through Vestmannaeyjar airport or the Westman Islands ferry, called Herjólfur, leaving from Landeyjarhöfn. This ferry journey takes around half an hour and boasts a delicious cafeteria, comfortable living area and even rentable sleeping quarters. The Westman Islands ferry leaves twice a day, with added departures on exclusive days in the summer months. You can buy tickets here.
Eldfell Volcanic Eruption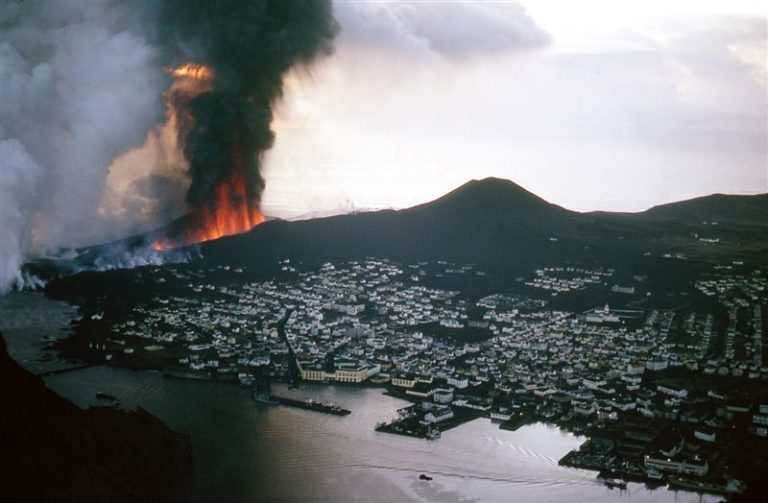 During the night of 23rd January 1973, 5000 residents of Heimaey were evacuated to the Icelandic mainland by fishing boats. The reason lies with the island's resident volcano, Eldfell, which began to rumble and roar at 01.00 am, spurting scorching-hot lava into the cool night air. Whilst the initial ash was blown safely out to sea, a change in the wind direction and a deterioration of the eruption itself caused a prominent lava flow, heading straight toward the town.

The townsfolk who remained sought to control these natural processes, constantly spraying the lava flow with sea water in a bid to save as much of the town as possible. One major area of concern was the town's harbour; the fishing fleet was ostensibly trapped, thus threatening the locals' livelihood up until the eruption ended on the 3rd July. Fortuitously, these efforts meant that much of the lava flow solidified or was diverted, saving the harbour, but still causing considerable damage to the town.

Visitors can learn more about this tragic event at the Eldheimar Museum, a truly fascinating exhibition that showcases just what life was like on the island before the Eldfell eruption. Visitors can check out an excavated home, watch documentary interviews and immerse themselves in hands-on activities and puzzles.
Þjóðhátíð Festival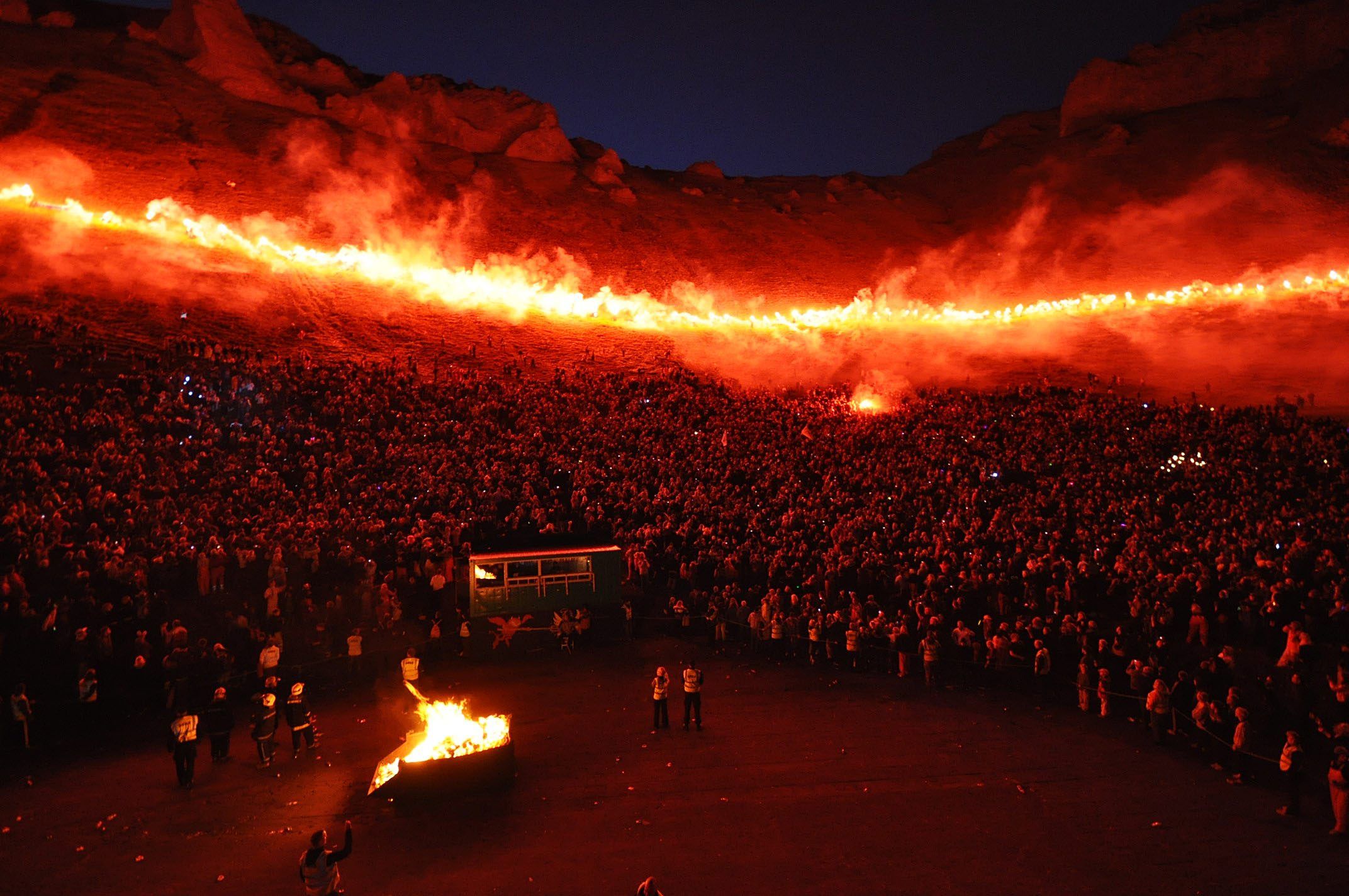 First held in the distant year of 1874, Þjóðhátíð ("The National Festival") celebrates four days each year, on the weekend prior to the first Monday in August, as a way of commemorating the millenium of Iceland's initial settlement. As the largest outdoor multi-day festival in the country, guests can expect such thrills as a dazzling firework display, communal singalongs, raging bonfires and open-air concerts.

According to the ancient saga Landnámabók, Iceland was first settled by Ingólfur Arnarson and his brother Hjörleifur, the latter of whom would soon be killed by his two Irish slaves, a consequence of his mistreatment of them. The killing took place on Hjörleifur's farm, itself located on the archipelago, and hence was where Ingólfur took his bloody vengeance. From this incident, the Westman Islands derived their name—"vestmenn", referring to the 'west men' of Ireland.
What is There to See & Do in Westman Islands?
One of the Westman Islands biggest draws is its fantastic bird watching opportunities, a delight to birders, ornithologists and twitchers the world over. Given Iceland's wide variety of birdlife, visitors are right to acknowledge just how many sites are celebrated across the internet for this very activity, but Vestmannaeyjar separates itself due to it hosting the largest colony of Atlantic Puffins in Europe. During the summer months, these numbers reach up to eight-million birds.

For those travelling outside of puffin season (early April until September), a visit to the Saeheimar Aquarium is a must. Despite its diminutive size, guests will have the chance to encounter rescued puffins and take part in their rehabilitation back towards the wild, as well as have an opportunity to see all other kinds of marine animals. Opened in 1964, the aquarium is the oldest institute of its kind in the country.

One newer start-up—albeit, one focused exclusively on the past—is Sagnheimar, the Folk Museum of Vestmannaeyjar. Here, visitors will not only learn more about the island's fateful 1973 eruption, but can delve back further into the pages of history, as far as the Algerian pirate raid of 1627, when raiders captured 234 people and killed 34 in one of Iceland's darkest chapters. Still, in the vain of light entertainment, kids are free to dress up as swashbucklers and take on a number of fun activities within the museum, including hunting for lost dubloons in a mysterious pirate cave.

As for food, well there's no better spot than the critically acclaimed restaurant GOTT, offering authentic seafood cuisine in a modern and comfortable setting. For those not particularly keen on fish, why not try out some of the establishment's steak, salads or varied dessert menu?
Where to Stay on the Westman Islands
Given the island's old-timey, rustic appearance, Eldey Apartments come off as something of a surprise given their contemporary aesthetic and attention to detail. Visiting for the first time, you'll feel, if only for a moment, that you could be staying in the centre of the capital. And yet, with one look out of the window, you'll find yourselves again engrossed in the glorious scenery of the Westman Islands. With self-service check-in, complimentary Wifi and flat screen television, Eldey Apartments are the one and only choice for the sophisticated wanderer.

Overlooking the stunning valley of Herjólfsdalurm, this charming cottage is only ten minute's walk from town, and five minutes from the nearest swimming pool, making it prime real estate for travellers to the Westman Islands. The property is surrounded with a charming porch, and is, without doubt, one of most luxurious spots on the island for enjoying a sheltered drink under the summer sunshine.

Just across the street from Heimaey's esteemed 18-hole golf course, visitors will find the recently renovated Dalhamar apartment. With a wide and open-plan living area and kitchen—fitted out with all manner of necessities—this one bedroom property is perfect for travelling partners, though can fit up to four people if the party doesn't mind getting a little cramped. Plus, the owners live only next door, making any queries or house calls incredibly convenient. The property is situated a short stroll away from the town centre, and thus manages to keep an air of solitude that's unbeatable for those seeking seclusion.
Finally, the Dalabú 2-story apartment is a dazzling example of just how professional property renovations can be; four bedrooms capable of sleeping eight people, with a flat terrace and unbelievably picturesque views, the Dalabú apartment manages to balance traditional decor with newfangled comforts, making it an authentic and unique property perfect for familes and larger groups.