Top 10 Cottages in Iceland | The Best Places to Stay Around the Country
What are the best cottages in Iceland? What makes for a good cottage, and how can you be sure that one you select is suited to you? Where are the best cottages around Iceland? Read ahead for a list of the top ten cottages in the country.
There are a multitude of cottages around Iceland that it is possible to book for your stay; discovering which one will be best for you, however, may be a little bit challenging. After all, what you desire from your accommodation is dependent on your group, budget, and plans. The Eyja Luxury House, for example, would be perfect for large groups of people without budget restrictions travelling to Iceland's east, and entirely useless for someone travelling on a shoestring, staying in the West.
The fact is, however, there are cottages up and down the country that can fit travellers of all colours. Some are very affordable and simple, while others are lavish and extravagant; some are best suited for couples, whereas others can host large groups of over ten. Examples of all of these can be found in most corners of Iceland.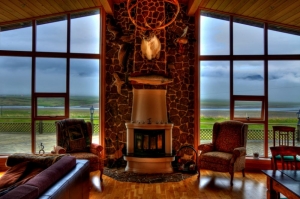 A top-ten list, therefore, must take in as many factors that travellers can agree are important for their holiday as possible. Most booking a cottage seek their experience to be far into the nature, authentically Icelandic, with a level of affordability, and somewhere that others would highly recommend.
This guide, therefore, will go area by area, and choose the best cottage based on the following factors:
It must be in a scenic, rural location

It must be within a reasonable driving distance of the most interesting sites in the area

If fully booked to maximum capacity, it must cost no more than 10,000 ISK per head, per night, at its most expensive (some cottages charge more in summer and over the weekend)

It must have an average of five-star reviews from those who have stayed there

It should be open for as much of the year as possible

It should have a hot tub if one is available
Continue reading to be taken around the country, finding the best cottage in each region.
The Cosyness Cottage on the Reykjanes Peninsula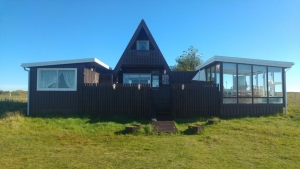 The Reykjanes Peninsula connects Keflavík International Airport and Reykjavík, and is best known for its haunting yet beautiful lunar landscapes of bare and barren lava fields, with many volcanoes, hot-springs and rock formations. It is also renowned for its dramatic coastline, historic fishing villages, and being home to the Blue Lagoon.
It is, therefore, a popular place to stay in the country. It's proximity to the capital and the airport is convenient, while it is uninhabited enough for visitors to explore many natural sites and features in peace, away from the crowds. Thankfully, it has many cottages that suit a range of travellers, and the one that meets most factors listed above is the Cosiness Cottage, near the village of Hafnir.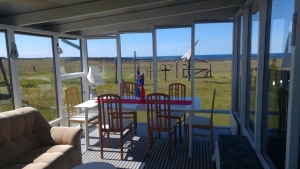 With ocean views, no nearby buildings, and surrounded by both verdant fields and lava, the location of the cottageis remote and picturesque. Many hiking trails lead away from the house, allowing you to better explore the sites and landscapes that make this part of the country so unique. It is also just a fifteen-minute drive to places such as the Blue Lagoon and the Viking World Museum, and half an hour from the capital.
Up to six people can sleep in Cosiness Cottage; there are two bedrooms, one with a double bed and the other with four singles. The kitchen is fully equipped, the bathroom contains a washer and drier, and there is a dining room with glass panels from which you can marvel over incredible ocean views. To top it off, the Cosiness Cottage has a hot-tub on the terrace that, unusually, contains heated seawater, making your evenings of unwinding as unique as they are refreshing.
The Cosiness Cottage is open throughout the year.
---
Cost per head when fully booked: 4083 ISK
---
Geysir Cottage in the Golden Circle Area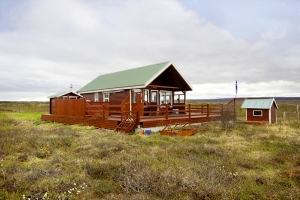 The Golden Circle is the most popular tourist trail in Iceland, the route of which takes you to three incredible sites: Þingvellir National Park, Gullfoss Waterfall, and the Geysir Geothermal Area. There are many other less-known destinations in the region, such as Sólheimar Ecovillage, Kerið Crater Lake and Friðheimar Tomato and Horse Farm, all of which those staying locally should visit.
Because of the wealth of great sites, there are many hotels, hostels, summerhouses, and cabins all in the area, and many cottages that fit all the criteria listed above. The one which rises above the others to take a place on this list, due to its sheer proximity to the sites, is Geysir Cottage.
As its name suggests, this cottage is closest to the Geysir Geothermal Area; it is in fact so close, that from the cabin you can see the active geyser Strokkur erupt every five to ten minutes, to heights of over twenty metres. Reaching it is only a ten-minute walk; reaching Gullfoss is just a ten-minute drive; and Þingvellir National Park is about forty minutes away.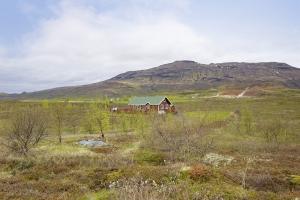 In spite of being so close to such a popular destination, the cottage is rather isolated, surrounded by mossy lava fields and cultivated farmlands; reaching it requires you to travel down a dirt track, away from the main roads. The house itself is very charming; it has a well-furnished, open-plan living room and kitchen, with all necessary amenities. There is a master bedroom and a sleeping loft, allowing for up to eight people, and there is a hot-tub outside.
The Geysir Cottage is open throughout the year, but the cost rises from 25,000 ISK per day in winter to 30,000 ISK in summer.
---
Cost per head when fully booked: 3125 ISK in winter, 3750 ISK in summer
---
Hróarslækur Cottage in the South Coast Area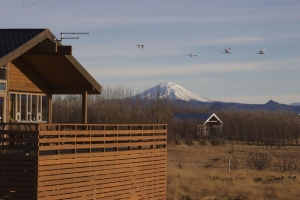 The South Coast is a vast stretch, largely considered to start where the south of the Reykjanes Peninsula ends in the west, all the way to Jökulsárlón glacier lagoon in the east. It is lined with many incredible features, from waterfalls such as Seljalandsfoss and Skogafoss, to volcanoes such as Eyjafjallajökull and Katla, to glaciers like Sólheimajökull and Vatnajökull.
For the purpose of this list, the South Coast will be split into western and eastern sections, due to the wealth of sites on both sides, and this part of the South Coast regards the former, from Reykjanes up to the village of Vík. Like with the Golden Circle, the popularity of this area has invited a wealth of different styles of lodgings to develop, including many cottages. The one to make this list is Hróarslækur.
Hróarslækur sits in a verdant, wooded area with just a few other buildings around, and has a fantastic view of the magnificent Mount Hekla. It is nestled away from the tourist bustle, but just a five-minute drive from the village of Hella where you can purchase all necessary amenities. It is only thirty minutes of driving from here to reach the South Coast's first main attraction, the stunning waterfall Seljalandsfoss. It is, as a side note, also a great place to start exploring the Golden Circle from; it is just an hour from the Geysir Geothermal Area.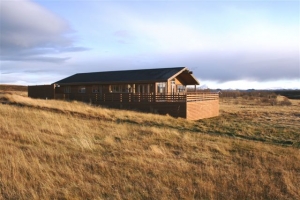 This cottage is designed for large groups; it has two rooms with queen sized beds, and four with two single beds, meaning it can sleep up to twelve people. Up to ten of those people can fit in the luxurious hot-tub outside. There is also a fully equipped kitchen, complete with a coffee-maker, a spacious living area and two bathrooms.
Hróarslækur Cottage is open throughout the year but has different prices based on the season and day of the week. Winter weekdays are 75,000 ISK a day, whereas the weekends are 90,000 ISK; summer weekdays are 85,000 ISK, and the weekends are 100,000 ISK.
---
Cost per head when fully booked: 6,250/7,500 ISK in winter, 7,083/8,333 ISK in summer
---
The Small Cottage in the Jökulsárlón Area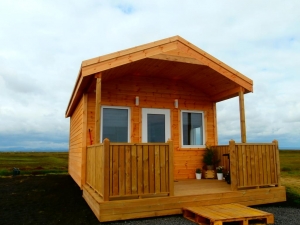 The south-west of Iceland has many gems within the nature that any coming to Iceland should do their all to visit. There is the Skaftafell Nature Reserve, with its many glaciers, forests, rivers and waterfalls, and the Vatnajökull ice cap, the largest glacier in Europe. In summer, many come for the incredible hikes to be had in the area, whereas in winter, the ice caves under Vatnajökull open and attract people from the world over. One part of the area, however, that retains its beauty and accessibility throughout the year is the magnificent Jökulsárlón glacier lagoon.
These sites make it little wonder that many wish to stay in the region. Thankfully, there is accommodation to suit all. The number one cottage in the area, however, is simply called 'Small Cottage', and it is located between the villages of Vík and Kirkjubæjarklaustur. While this puts it nearly two hours drive from the lagoon, and just over an hour from Skaftafell, it also makes sites such as the Reynisfjara black sand beach, the Dyrhólaey rock arch, and the Highland region of Landmannalaugar easily accessible.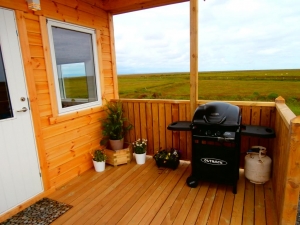 Although surrounded by sites, the Small Cottage sits in the middle of nowhere, with the only other building in sight a nearby farm. It is surrounded by fields that stretch for miles, to the ocean in the South, past rivers to the east, and up to the glaciers Mýrdalsjökull and Vatnajökull, which are visible on clear days. Its rural location means that you are likely to see far more sheep and horses than you will people if travelling in summer.
The Small Cottage is little, as its name suggests, but still well equipped. Its kitchen has a stove and coffee machine, its bathroom has a shower (which is not guaranteed in all smaller cottages), and it has a barbecue out back. There is one double bedroom and a sofa-bed that can comfortably sleep one more. It does not have a hot-tub, like any other cottage around Jökulsárlón, but these can be found in both Vík and Kirkjubæklaustur.
The Small Cottage is open throughout the year.
---
Cost per head when fully booked: 7,666 ISK
---
Mjóeyri Cottages in East Iceland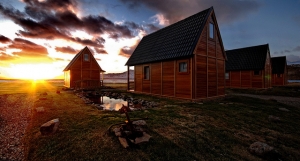 East Iceland is an incredible place, with tiny, charming settlements, enormous mountains, and breathtaking fjords. It has more diverse wildlife than any other part of Iceland and fewer crowds, as fewer tourists make it all the way over. There are still multiple places to stay, but to immerse yourself in the unbelievable natural beauty of this setting, and to be able to travel out to the nearby sites, there is no better choice than booking a Mjóeri Cottage.
There are five in total, set in a beautiful location on a little tongue of land that stretches into the fjord of Reyðarfjörður, beside the town of Eskifjörður. The views from each of them are absolutely magnificent; you can expect to see ancient peaks towering over the sparkling ocean, and no matter the time of year you visit, the lighting and weather conditions will only add to their beauty. In terms of positioning, these cottages really cannot be beaten.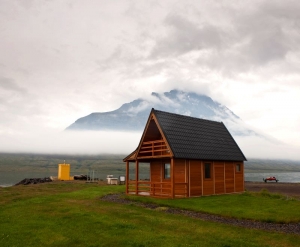 Eskifjörður is a beautiful town, with all the amenities you need. It is also in a great location, sitting roughly in the middle of the East Fjords, allowing you to explore them with ease. It is also less than an hour to the largest settlement in the region, Egilsstaðir, as well as sites such as Hallormsstaðaskógur, Iceland's largest forest, and the lake Lagarfljót.
Each cottage has two bedrooms upstairs, accommodating four, a sofa bed downstairs, accommodating two more, and you can request a mattress for a seventh person. The kitchen and dining room are well furnished, and the bathroom has a shower. There is a hot tub that is shared between the guests, and, unlike most places, a sauna on site you are welcome to enjoy.
The Mjóeyri Cottages are open throughout the year and raise in price from 24,900 ISK in winter to 34,900 ISK in summer.
---
Cost per head when fully booked (in this case, for six people): 4,150 ISK in winter, 5,817 ISK in summer.
---
Föninn Cottage in North Iceland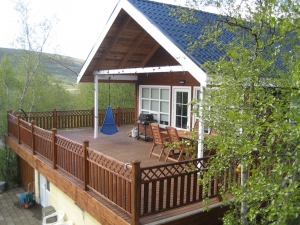 North Iceland is a huge region, much of which is very remote. In its eastern reaches, you can find incredible places such as Dettifoss, the most powerful waterfall in Europe, and to the west, locations such as the Vatnsnes Peninsula, the best place in the country for seal-watching. Most of the main attractions, however, are located in the centre, around the towns of Akureyri and Húsavík, and the Lake Mývatn region.
Föninn Cottage puts you right in the middle of these sites, and, considering its wealth of facilities, is deserving of a place on this list. Although it is a very short drive to Akureyri, it is in a beautiful natural setting, surrounded by the verdant Lund Forest in the Fnjóskadalur Valley, with many hiking trails around; you would not think when first seeing it that you are right beside Iceland's most populous region outside the capital area.
The Lake Mývatn region, famed for its incredible geology, geothermal areas and diverse scenery, and Húsavík,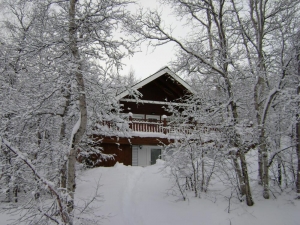 renowned as the whale-watching capital of the country, can both be reached from the cottage in around an hour. The aforementioned more distant sites, Dettifoss and the Vatnsnes Peninsula, are both about two hours away in opposite directions, illustrating how central and convenient the location is
The cottage is spacious, beautiful and has excellent facilities. There are two double bedrooms and a sleeping loft that can hold four, allowing eight people to stay in the house at once. The bathroom, living room and kitchen are all large, comfortable and well equipped. Föninn Cottage does not skimp on extra luxuries either; its floors are all geothermally heated, it has a hot tub and a barbecue, and patio furniture including a hammock for those warm summer days.
Föninn Cottage is open throughout the year.
---
Cost per head when fully booked: 3750 ISK
---
Bardaströnd Cottage in the Westfjords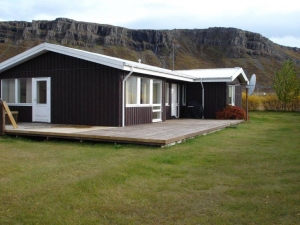 The Westfjords is the least populated and most remote part of Iceland; many parts of it are entirely inaccessible in winter by anything but boat, and the settlements, outside of Ísafjörður and Patreksfjörður, tend to be tiny. Great mountains, stunning bays and fjords, and a wealth of incredible natural sites, however, mean that many visitors still make their way over here throughout the year, in order to bask in the region's isolated beauty.
There are, therefore, many options of accommodation, including several cottages. None of these put you completely centrally to all the sites, as navigating the fjords can often take quite a while, but Bardaströnd Cottage's position allows you to see all the main ones if don't mind a bit of driving.
Located in the south-eastern part of the Westfjords, Bardaströnd Cottage is less than an hour from Dynjandi, one of the country's most incredible, otherworldly waterfalls; it is also about an hour and a half from the Látrabjarg birdwatching cliffs, which is by far the best place in Iceland to see puffins up close. Patreksfjörður, which has all the shops you may need, is just half hour away, and the larger town, Ísafjörður, is about two and a half hours away.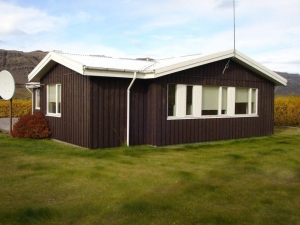 It is not just Bardaströnd's location, however, that makes it a great place to stay. It has everything in it a traveller could need, such as a well-furnished kitchen, bathroom and living area, an outdoor porch with a barbeque, and a hot tub that sits by the sea. There are three bedrooms, and up to seven people can be accommodated at a time.
Bardaströnd Cottage is open throughout the year but has different prices based on the season and day of the week. Winter weekdays are 18,000 ISK a day, whereas the weekends are 20,000 ISK; summer weekdays are 25,000 ISK, and the weekends are 30,000 ISK.
---
Cost per head when fully booked: 2,571/2,857 ISK in winter, 3,571/4,286 ISK in summer.
---
Hálsaból Cottages on the Snæfellsnes Peninsula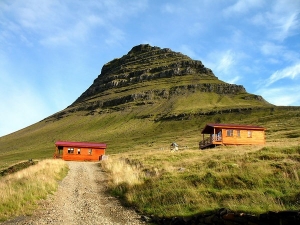 The Snæfellsnes Peninsula has the nickname 'Iceland in Miniature', due to the wealth of its diverse sites and landscapes. It is best known for its crowning volcano and glacier, Snæfellsjökull, which has its own national park, but that is just the tip of the iceberg. It is also home to the Lóndrangar basalt pillars; Kirkjufell Mountain; the Buðahraun lava field; Djúpalónssandur beach; many waterfalls; and beautiful fishing villages sat against dramatic coastlines, to name just some features.
Because of all of these attractions, Snæfellsnes has become an incredibly popular place to take day tours; to see as much of it as possible, however, there is no better option than staying in accommodation on the peninsula itself. There are many choices, but the ones to make this list, due to their location and facilities, are the two Hálsaból Cottages.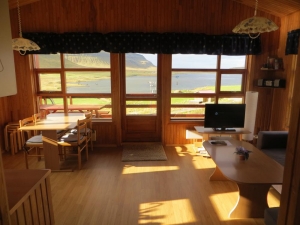 Located on the northern side of Snæfellsnes, near the little town of Grundafjörður, the Hálsaból Cottages are in an excellent location to explore all of the sites listed. Their positioning is also beautiful; they are perched atop a hill, with a mountain peak rising right behind them. The views from their porches are thus stunning.
The cottages are also well-equipped, with all modern amenities in the bathrooms and kitchens. Each has two bedrooms with bunkbeds, one of which is a double, and a sofa bed that can sleep two, meaning they have a maximum capacity of eight. Each cottage also has its own barbeque and hot tub, and they share a playground.
The Hálsaból Cottages are open throughout the year.
---
Cost per head when fully booked: 2563 ISK.
---
Dalhamar Cottage in the Westman Islands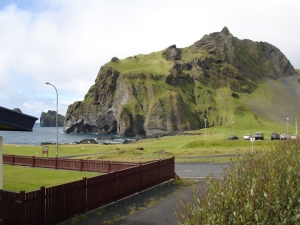 The Westman Islands, or Vestmannaeyjar, located off the South Coast, make up an incredibly beautiful archipelago. Formed by volcanic eruptions (which revisited the island in 1975 in an incident that almost destroyed the town), it has incredible peaks, craters, and coastal geology. Throughout summer, it is home to many puffins, and its waters are renowned for great whale-watching, with both Fin Whales and orcas more common than most other places in Iceland.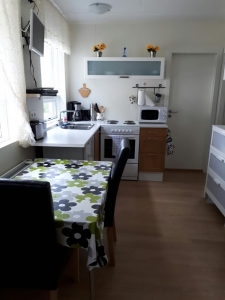 When it comes to accommodation on Heimaey, the only island inhabited, however, it is usually in the form of hotels or hostels. There is, in fact, just one apartment within a cottage that can provide you with the holiday house experience: Dalhamar. Even though it makes itself onto this list by default, it is still ranked with five stars from those who have stayed there, so has earned its place.
Located right by the beach, it is easy to walk both out into the nature and into the centre of town; it sits a little secluded from the main bustle and has a large garden where you can find some peace and quiet. The house is well-furnished, clean, and has a double bed and a double sofa bed, allowing four to stay in it at a time. It does not have a hot-tub, but the swimming pool on the island has several, and it is within easy walking distance.
Dalhamar is open throughout the year.
---
Cost per head when fully booked: 4000 ISK
---
Hlidsnes Cottage in Reykjavík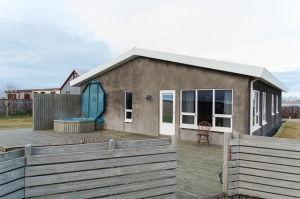 Finally, we come to the city of Reykjavík. The world's northernmost capital has, over the past years, developed an international reputation for being quirky, cultural, friendly, and a lot of fun. There are boutiques, cafes, bars and restaurants all along the main street of Laugavegur and in the downtown area; many museums, galleries and historical sites; and it is the departure point for most tours and activities.
Of course, finding rural accommodation in a capital city is an impossible task, but there are many cottages that exist on the outskirts in beautiful locations. The best example of this is Hlidsnes Cottage. Sat on its own peninsula, curving out to sea, it feels like it is on its own island; the ocean surrounds it on three sides, allowing you to enjoy incredible panoramic views that, in clear weather, will allow you to see the Reykjanes and Snæfellsnes peninsulas and Mount Esja.
In spite of being twenty minutes drive from downtown Reykjavík and just ten to the centres of the neighbouring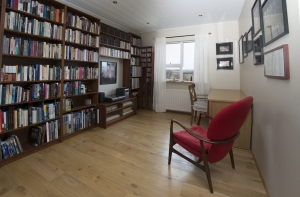 towns of Garðabær and Kopavogur, it has a huge amount of birdlife on the shore surrounding it. In summer, there are 25 species nesting, and over 42 species have been identified in the area. In winter, the birds are less common, but it's one of the best places in the capital area to observe the Northern Lights.
The cottage itself has all the amenities you could need. The rooms are all well-furnished; there is even a laundry room and a bath, telling of how spacious it is. The house has a large outdoor patio with a hot tub, and a swimming pool with saunas just five minutes drive or thirty minutes walk away. Three bedrooms allow six people to stay at any time.
Hlidsnes is open throughout the year.
---
Cost per head when fully booked: 6,500 ISK.
---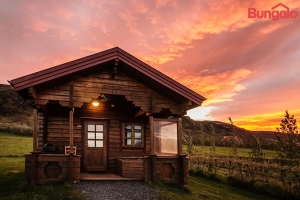 This list of top ten cottages, though based on legitimate factors, is subjective; depending on your needs and desires, and those of your group, an entirely different set of holiday houses could be advised. While all those above are incredibly well reviewed, almost all the cottages across Iceland have received excellent feedback about their locations, comfort, and the kindness of the hosts.
That being said, if you are planning a long tour around the island, and head to some of the houses listed as you go, you are sure to have a holiday that stays in your memory forever.
*All costs are rounded to the nearest Icelandic Krona. The prices of the accommodation and their availability were correct at the time of writing, but may be subject to change.