Summerhouses in Iceland | A Great Value Choice for Your Holiday
Why is staying in a summerhouse in Iceland better than a hotel or hostel? Can you find summerhouses that fit within a budget? Are there summerhouses to rent across all of Iceland? Continue reading for all you need to know about finding the summerhouse in Iceland that will prove to be a great value choice for you holiday.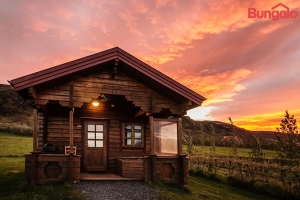 Icelanders love summerhouses. It seems almost everyone in the nation has a getaway somewhere in the country that they escape to whenever the sun is shining, and they have a day free. In fact, many places in Iceland that look like villages are actually just many cottages and bungalows nestled together, becoming nearly or totally deserted when winter swings around.
Like in the other Nordic countries, summerhouses in Iceland are unlike those around much of the rest of the world. While in places such as North America, the term refers to a hut or cabin that acts as the most basic retreat, Icelandic summerhouses are usually furnished, functioning houses, with multiple rooms, running water and electricity. Some even have wifi and hot tubs. Many are also completely usable throughout the year.
Immersed in nature, far from the stresses of city living, and basked in the sun, it takes little imagination to realize why summerhouses are quite so popular out here. Luckily, however, the chance to stay in one is not just a privilege of Icelanders; many are open to visitors too.
Though staying in other people's houses for an affordable cost sounds ominously like AirBnB (a phenomenon becoming more and more loathed by locals due to the effect it is having on Reykjavík's rental prices and downtown services), renting a summerhouse has none of the associated problems. It puts no pressure on the rent of residents in the surrounding area or of local services, as very often, there aren't any of either.
Regardless of if you are travelling around the country or basing yourself in one area, it is always wise to consider booking a summerhouse to any alternative accommodation. The reasons for this are fivefold and are listed below.
Affordability
Summerhouses are very competitively priced, especially if you approach booking one with some forethought. While in hotels you book by the room, and in hostels, you book by the bed, you book everything in one when reserving a cottage out in the country. While the initial cost may seem quite high, when you divide it by the number of people staying, the price ends up being often similar to or cheaper than the most budget of accommodations.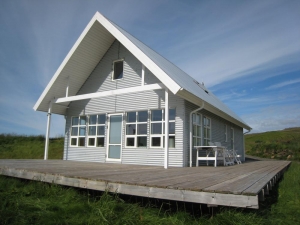 Take, for example, the summerhouse Ártindur, located in the remote, beautiful valley of Skarðsströnd in West Iceland. Renting this for a night costs 16,000 ISK, which is a similar price to a comfortable double room in a hotel in the area. The cottage has a double bed and a twin room, making it already more affordable as it houses twice the number of people; considering the mattresses and travel-bed, however, it has the potential to hold up to nine.
If you are therefore travelling in such a large group, you will each be paying the almost unmatched price of less than 2000 ISK a night.
Similarly, the cottage Foss in the isolated Staður region of North Iceland houses twelve people and is available for 20,000 ISK. This, if you fill it with family and friends, works out even cheaper than Ártindur, at just over 1,600 ISK per person.
Smaller groups need not fear missing out on affordable prices. Take, for example, the summer house Brennistaðir Berghylur on the farm of Brennistaðir, near Borganes. Although it can sleep up to five and has two bedrooms, it is still more affordable than most hotels for couples, at only 9,200 ISK. At less than 5000 ISK per head, it is as cheap as a hostel, while being much cosier and more personal.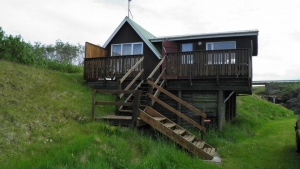 Please note that many summerhouses require guests to stay for a minimum number of nights; Ártindur is one such place, as guests must be there for two nights or more.
*These costs were correct prices at the time of writing for a winter weekday, and may since have risen or dropped. Prices may differ over the weekends and by season.
---
---
Proximity to the Sites
Another reason why summerhouses are the best choice for accommodation for many travellers regards their proximity to the natural sites of Iceland that most are coming here to see. No matter whether you want to see Dynjandi waterfall and the Látrabjarg birdwatching cliffs in the Westfjords, or just the famous features of the Golden Circle, there will be a summer house that puts you right in the middle of the action.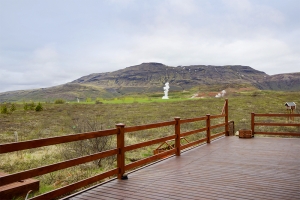 To illustrate this, an example can be attached to every notable place in Iceland. Starting with the Golden Circle, there are a wealth of options; the Þingvellir Cottage is located right beside Þingvellir National Park, in walking distance of the lake Þingvellavatn, while the summerhouse Kjarnholt is within ten kilometers of both Gullfoss and Geysir.
The same is the case along the South Coast. Those who want to be in close proximity to the famous waterfalls Seljalandsfoss and Skógafoss could stay at, for example, this cosy cottage in the region of Hvolsvöllur, just twelve kilometres from the former. If you would rather be at the other end of the South, near Skaftafell Nature Reserve and Jökulsárlón glacier lagoon, the bungalow of Gerði is between the two.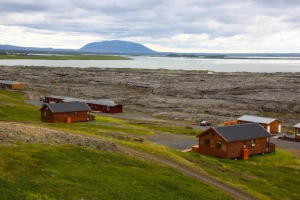 The beautiful Brimnes cabin, on the edge of Lake Ólafsfjörður in Iceland's North, is right near popular places such as Siglufjörður and Eyjafjörður, while the summerhouse Nónsteinn can be found in a remote part of the Snæfellsnes Peninsula. Bjarkaholt will put you within easy driving distance of the attractions of Westfjords listed above, while this summerhouse in the East puts you right by Iceland's largest forest, Hallormsstaðaskógar, and the lake Lagarfljót.
While during winter, summerhouses in the more remote areas may close, in the season they were named after, you should have no struggle to find the place that meets your needs.
Authentically Icelandic Culture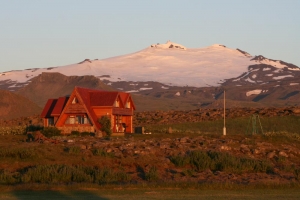 If you travel seeking to live the experience of a local, summerhouses are a great choice. To stay in one, after all, is an authentically Icelandic way to spend your time out in the nature.
Not only that, but they present opportunities for you to partake in other national pastimes. If two things can be said about most Icelanders, it's that they love the great outdoors and that they feel a spiritual connection with their nature. Choosing a rural, far-flung summerhouse is, therefore, an excellent way to emulate the locals' passion, and immerse yourself in the country's spectacular, mystical landscapes.
Take, for example, the Söðulsholt Cottage, a short way from Borganes in the West. This summerhouse is located on a horse-farm with a private river, and the owners allow their guests, for small additional fees, to book horse-riding excursions and to go fishing.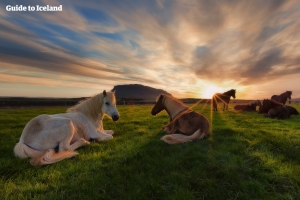 Both of these pastimes are very popular here, particularly the former; the unique breed of Icelandic horses are a source of passion amongst many, for their comparatively high curiosity and intelligence, and their skills in dressage and other equestrian sports.
You do not have to pay, however, to immerse yourself in and connect with the Icelandic nature. The cabins at Þakgil, open throughout summer and located in a sheltered gorge on the South Coast, are just one of many examples of great summerhouses that are close to many excellent and diverse hikes. This summerhouse on Hvalfjörður is even close enough to Glymur, Iceland's second tallest waterfall, for the fit and eager to take the trek to see it.
---
---
Peace and Quiet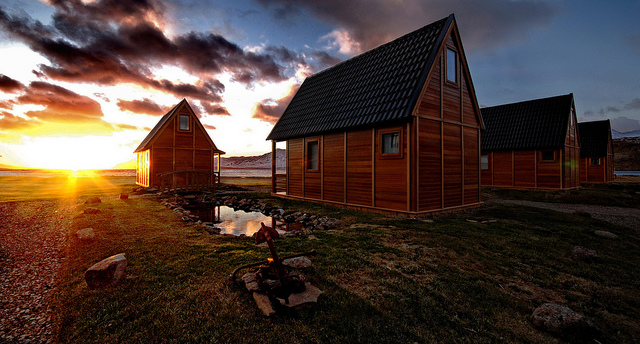 Another reason why summerhouses should be seriously considered by those coming to Iceland is the peace that comes with being far out in the nature. While Reykjavík is not an incredibly busy city, and the towns around the rest of the country even less so, many travellers coming here do so because of how sparsely populated, untouched and quiet much of Iceland is. They seek escape from any reminder of the stresses from home, be it traffic, the concrete jungle, or the sounds of people partying at night, and summerhouses provide such a departure from the bustling norm.
Almost 80 percent of Iceland is uninhabited; there are just three people per square kilometer, making it one of the world's most sparsely populated countries. That means there are vast areas where you will not encounter another living soul for miles and miles. Thankfully, there are summerhouses in many of these places for you to bask in the silence and marvel over the sheer emptiness.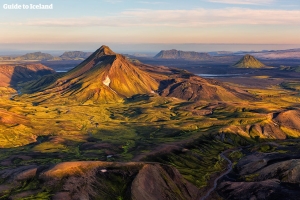 Take, for example, this cottage on Iceland's South Coast. Located between Vík and Kirkjubæjarklaustur, it is surrounded by nothing but emptiness; you can walk down to the deserted beach, or across the nearby black sand deserts, over lava and through verdant green fields, all without encountering anyone else. All your hikes in clear weather around this area will be in view of two glaciers, Mýrdalsjökull and Vatnajökull.
This summerhouse near Húsafell has a glacier view of its own, over Eiríksjökull. Though within easy driving distance of settlements such as Reykholt, this bungalow feels very isolated. The fact it is has a river running in front of it and trees surrounding it make it appear to exist in its own fantasy world.
---
---
Nature Opportunities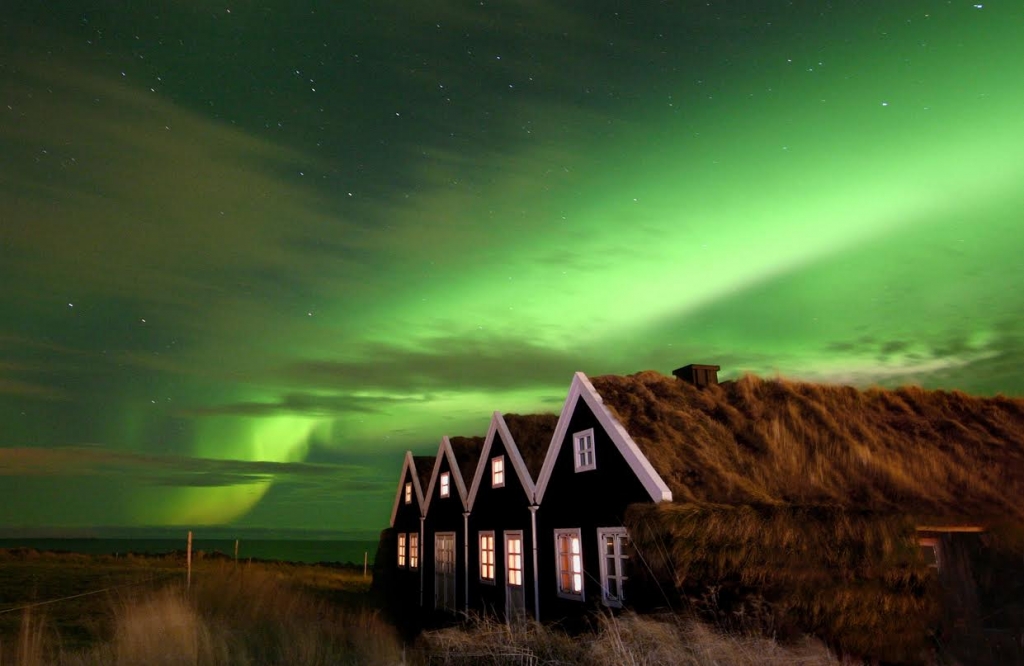 The final reason to book a cottage in Iceland is because of the opportunities in nature you would not otherwise get if staying in a hotel or hostel. Many who come to visit Iceland do so to see the Northern Lights and wildlife such as puffins, whales, seals and reindeer, and staying in a summerhouse in the right location raises your chances of seeing them dramatically.
The Northern Lights can be seen across the country whenever the sky is dark and clear of clouds: basically, from September to April. Many visitors, however, fail to see them, or just see slight green colouration in the sky, as they spend their evenings in places with too much light pollution. Finding a summerhouse far out in the country, therefore, is a reliable way to make sure you don't make the same mistake.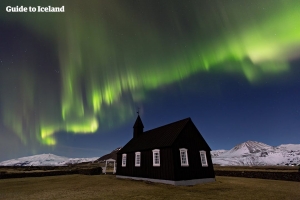 There are just a few buildings on Sireksstaðir farm, in the Vopnafjörður area of northeast Iceland; nothing else is around for miles. The cottages here are thus a great place to watch the Northern Lights from. To add to the experience, they come with hot tubs, so you can marvel over this incredible natural phenomenon at the height of comfort.
For a similar experience closer to the capital, Giltún Cottage is also very isolated, and also comes with a hot tub. It is just an hour's drive from Reykjavík, and the towns of Selfoss and Hveragerði are just ten to fifteen minutes away, where you can get all amenities you need.
---
---
Regarding finding puffins, there is no better place than by Látrabjarg in the Westfjords. The aforementioned Bjarkaholt is a great summerhouse a short drive from the cliffs, as is this cottage in Bardastrond, right nearby. For those who love birdwatching but don't necessarily need to be so close to the puffins, the cabins Hlíð and Álfahlíð sit right on the edge of Lake Myvatn, an avian paradise; you can hope to see Whooper Swans, Harlequin Ducks, Rock Ptarmigans and Gyrfalcons, amongst dozens of other species.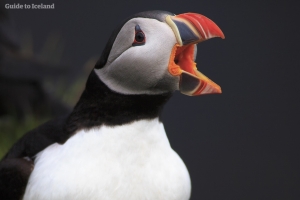 23 species of whale and dolphin live in the waters around Iceland, with more in summer when the great whales come to feed. While they live largely offshore, they are spotted from land quite regularly in the Westfjords and on the Snæfellsnes Peninsula.
The summerhouse Hvilf, located about 15 minute's drive from Ísafjörður, the Westfjords' largest settlement, faces the fjord Önundarfjörður and thus has a prime position for whale watching; keep a particular eye out for Humpback Whales feeding. The Snæfellsnes Cottage, meanwhile, has an excellent location between the mighty Snæfellsjökull glacier and the ocean; it is just a short walk to the shore, and this peninsula is renowned for being the country's best place to see orcas from land.
Both the Snæfellnes Peninsula and the Westfjords are also great places for spotting seals. The best place to catch them, however, is on the Vatnsnes Peninsula in Iceland's North. The town of Hvammstangi on this peninsula has the Icelandic Seal Centre due to their abundance and also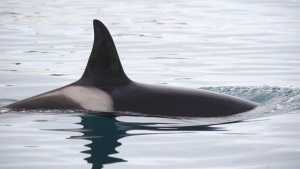 has a campground just a little out in nature complete with summerhouses. The Hvammstangi cottages, therefore, are a great place to stay for seal-watching.
Any coastal location will provide you with a decent chance of seeing seals, and a possibility of whales. To see wild reindeer, however, you must go to the east, the only place in the country where they can be found.
Throughout summer, these reindeer usually live in the elevated highlands around Mount Snæfell, but occasionally descend to lower ground, even more so during the colder months. Their range extends from as far North as Vapnafjorður and as far South as Jökulsárlón, so they may pass by any summerhouse in the east. Summerhouses closest to the Snæfell area, however, include Odin Cottage in Breiðalsvík, Klettakot, near Egilsstaðir, and Mosi, near Djupivogur.
---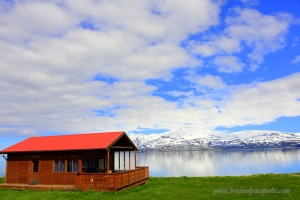 The wealth of summerhouses around Iceland make finding somewhere affordable, peaceful and convenient out in the country more than easy. Dotted all over the island, they allow you to explore on your terms and enjoy an authentically Icelandic experience. No matter your plans for your holiday, staying in a summerhouse in Iceland will no doubt only add to your experience, and help you connect with the incredible natural beauty of this spectacular nation.