Iceland might not be known for its skiing and snowboarding locations but in fact, there are a number of exciting resorts and off-piste trails that make both extreme sports a joy to try here. The question is, just where can you find the best slopes, and what accommodation is located nearby?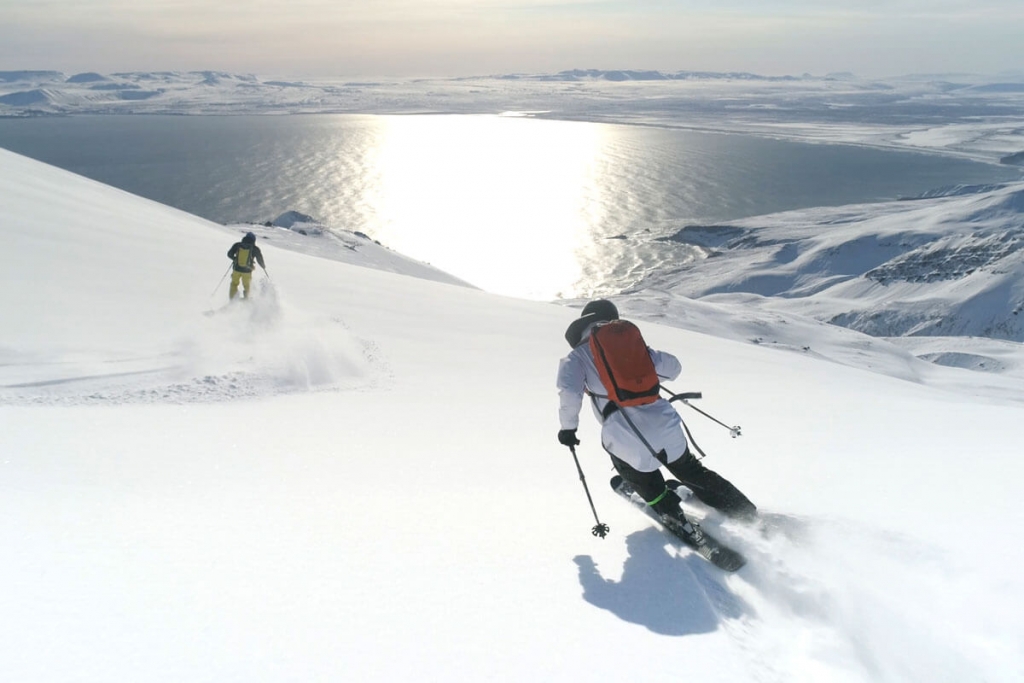 Iceland is an extremely mountainous country, one that sees that a flurry of snowfall from November until March, as well as a wave of fresh-faced visitors, eager to see the magic of nordic wintertime.

Unsurprisingly, many guests hurriedly seek out authentic winter activities, be it snowmobiling, ice caving or glacier hiking. A dedicated minority, however, will also try their hand at skiing or snowboarding, activities that are perhaps better associated with such countries as France, US, Canada or Switzerland, to name a few.

While its true that Iceland's ski slopes lack the drama of many of their international counterparts, there can be no denying the purity of their snow, the breathing room and space of the resorts, the magnificence of their views and the professionalism of their staff.

So what are the most popular ski resorts in Iceland, and how difficult is it to find holiday accommodation in the vicinity of each?
Why Go Skiing and Snowboarding in Iceland?
Before we look into each of Iceland's resorts individually, let us first look at some of the overarching reasons as to why you should try some skiing or snowboarding here, depending on your personal preference.

Whether its a matter of finding an alternative activity from Iceland's most popular tours or just because you love skiing and snowboarding and are looking to try it elsewhere, you'll find a treasure-trove of reasons to persuade you that Iceland should be your next stop on the travel itinerary.
Unique Opportunities on the Slopes
Skiing and snowboarding underneath the dancing and colourful solar patterns of the Northern Lights is another one of the big draws that bring enthusiasts to Iceland. This shouldn't be surprising given the ethereal rarity and unique character of this incredible phenomenon.

Riding from the top of a mountain all the way down to the rippling shores of the Atlantic Ocean is another major pull for skiers and snowboarders looking for the next new challenge. Iceland's mountains and slopes allow for this on countless occasions, providing new experiences for those who may have felt they've seen and done it all when it comes to skiing and snowboarding.

In that vein, heli-skiing is also a very real possibility here, though only on days when the weather is cool and calm enough. Participants are transported by helicopter to one of Iceland's many mountain summits, then allowed to glide down the back trails to their heart's content.

Iceland is also very good for beginners to the sport. For one, the majority of the slopes are fairly tame, allowing newbies the opportunity to practise and develop their skills, control and speed boundaries.
A Growing Reputation
As has been mentioned previously, Iceland does not share the reputation of some of its larger competitors when it comes to thrilling, high stake ski resorts. However, that's not to say that perceptions are not changing. With an increase in numbers each year to the country's resorts, and a deeper focus on festivals and cultural events that help to bring skiing and snowboarding to a mainstream audience, be they temporary visitors or local Icelanders.

Take AK Extreme as an example. This outdoor festival, held in Hlíðarfjall, Akureyri, sees friendly competition, musical performances and daring trick showcases, all of which come together to create a truly unforgettable time in the north of Iceland. Events include the Eimskip Big Jump, Burn Jib Session and the AK-X Downhill.

The IWG (Iceland Winter Games), ISA (Icelandic Ski Association) and Blizzard-Ski are all associations that are ever trying to further ski and snowboarding culture across Iceland.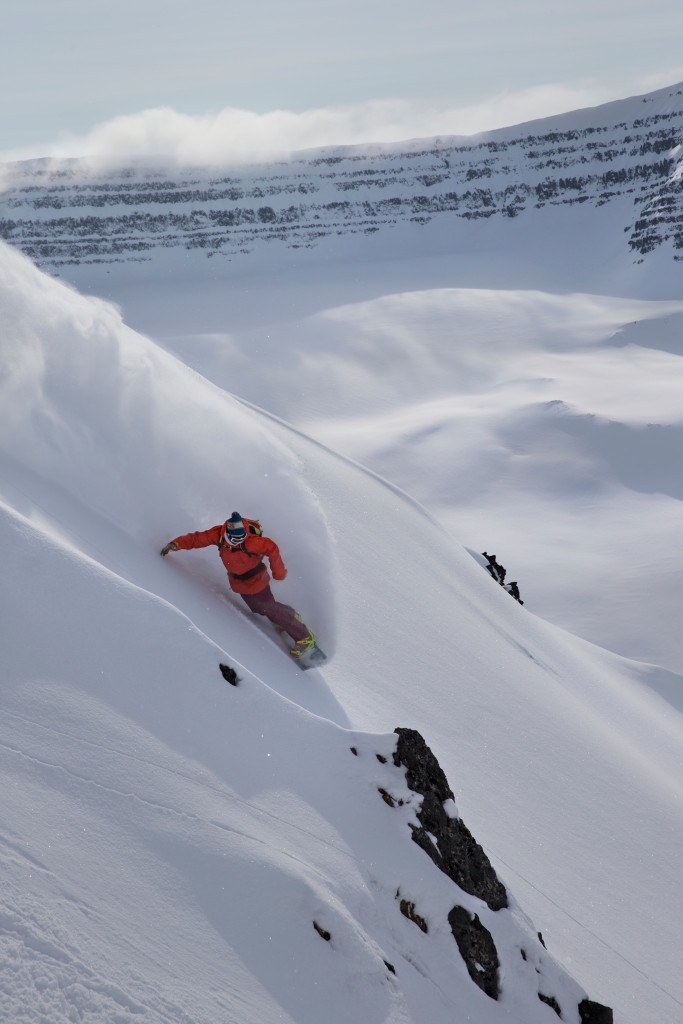 Tröllaskagi "Troll Peninsula"
Tröllaskagi or Troll Peninsula translated directly into English is a mountainous area is situated between Eyjafjörður and Skagafjörður. The Peninsula covers 4000 square km and is cut by several deep valleys that offer many snow covered slopes for winter sports.
Tröllaskagi peninsula is renown as optimum off-piste skiing with its fantastical huck cliffs and long-powder chutes.
Troll Peninsula is considered to be the unofficial home of winter sports in Iceland given that a number of former residents have gone to compete in both the Winter Olympics and the World Skiing Championships. The surrounding landscape is perfectly suited to producing world-quality skiers. 
There are three good Ski resorts within Troll Peninsula and their close proximity offers Skiers staying in the area the option to choose which one they want to test each day. The resorts are located in the towns of Dalvík, Ólafsjörður and Siglufjörður.
Heli Skiing in Iceland
Gaining much popularity in the last few years, Heli Skiing is making room for itself as growing winter sport in Iceland and attracts visitors from all corners of the world ready for the adrenaline kick.
The mountains in Trollaskagi peninsula produce great slopes for those who dare to take them and have the budget for it as well. Today there are three companies offering Heli Skiing in the area of Trollaskagi. Bergmenn are one of them but they also offer any type of mountain or Ski activity in the area. Then there is also Viking Heliskiing who specialize in Heli Skiing in the area along with another company named Arctic Heli Skiing Iceland.
Dalvik Ski Resort
With its longest run measuring at 1200m, Dalvík Ski Resort is one of the better resorts in the country; artificial snow blowers keep the slopes thick with the white stuff, and flood-light keep the resort well lit into the night. Off-piste trails are also available and opened by staff, weather permitting.
It is located in a walking distance from the town making Dalvik a great place to stay at or around in the area. There is a variety of accommodation options in Dalvík.

Olafsfjordur Ski Resort
The mountains and valley in Olafsfjordur tend be very snow heavy in the winter and are therefore ideal for winter sports enthusiasts. The valley offers excellent conditions for snowmobiling and in the mountain above the town you will find a ski resort that is perfect for beginners and as well more experiences skiers or snowboarders. At the old fashioned ski resort, you will find one disc lift that goes 650 meters up the mountain. There you can ride down and choose from 3 tracks. Cross country skiers can as well find opportunities as the Ólafsfjörður Skiing Association tours around the vicinity.
There are a few accommodation options in Olafsfjordur that you can choose from.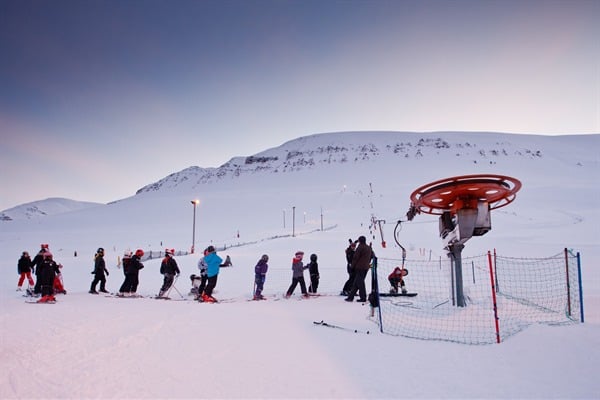 Siglufjordur Ski Resort
The lovely picturesque town of Siglufjordur is a great town to visit. For the past few years the town has gone through a transition phase as investors have put their effort in boosting up the tourism services in town with restaurants, museums and accommodations.
The ski slopes in Siglufjörður are among the best in Iceland and offer beginners and professionals good rides down the slopes. There are 4 Ski lifts with the total length going for 2000m. The highest point is 650m and there you have a lovely view over Siglufjörður.
You can find vacation rentals for your stay in Siglufjorður on Bungalo.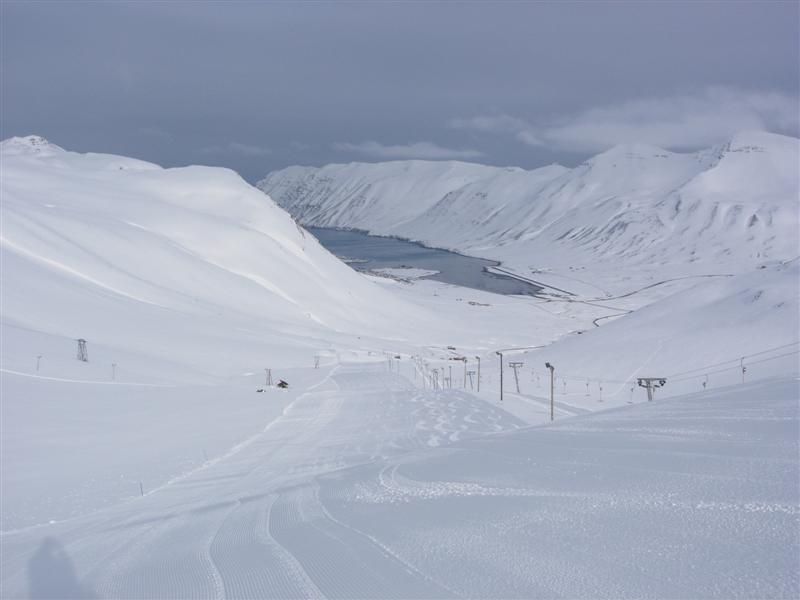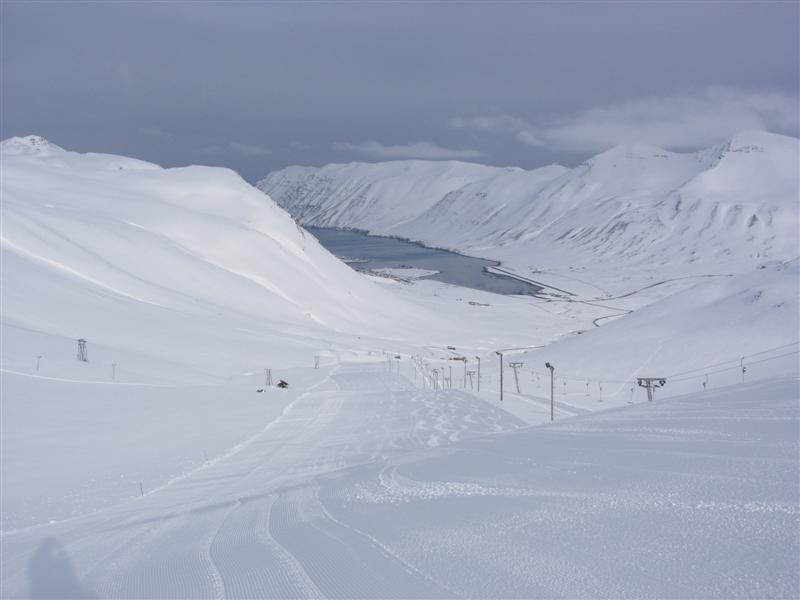 Blafjoll Ski Resort
Approximately a 30-minute drive from Iceland's capital city, Reykjavík, Bláfjöll Ski Resort is best suited to intermediate skiers and snowboarders.

This resort is both the favourite of Icelandic urbanites, ever-ready to hit the slopes once the snow starts laying, and international guests looking to experience an alternative opportunity to some of the more popular regional tours, be they sightseeing, whale-watching or snorkelling.

Opening times are dependent on the weather conditions, as is the case with all ski resorts in the country, though it has in the past opened as early as November. The resort itself holds 16 different lifts that transport snowboarders and skiers to both slopes and off-piste trails. Slopes are kept illuminated after dark, allowing guests to continue having fun well into the evening.

Accommodation Options Near
Those looking to stay close by to Bláfjöll Ski Resort could look towards Heiðtjörn cottage in Mosfellsbær, a property that not only boasts easy accessibility to the resort (20-minutes drive) but also 2 bedrooms which are capable of sleeping four, a hot tub and scenic balcony, complete with mountain views.  

Another option could be this cosy apartment in Kópavogur. Able to sleep up to five people, this property is close to local amenities and public transport, and has a TV with multiple channels and gorgeous veranda. Alternatively, guests could choose to stay in this 3-bedroom house in Hafnarfjörður, fully furnished with a jacuzzi, BBQ facilities and a picturesque terrace.
Isafjordur Ski Resort
Located in Tungudalur valley, this ski resort can be found in the mythic Westfjords of Iceland. It is known as either Ísafjörður Ski Resort or Dalirnir.

The resort only has three lifts and its slopes vary in length and elevation. Ísafjörður Ski Resort does withhold one of the steepest and longest runs in Iceland, however, accessible to only the very best skiers and snowboarders.

It is also possible to try cross-country skiing here and trek across Seljalandsdalur valleyþ This provides a new and exciting method for sightseeing the majestic landscapes of the Westfjords. These cross-country trails can range anywhere from 1 kilometre in length to 12.5 kilometres, stretching all the way to Bolungarvík town.

Accommodation Options Near
There are plenty of accommodation options for those looking to keep close to Ísafjörður Ski Resort. Ísafjörður is, of course, the largest town in the Westfjords.

For example, this private home amongst the peacefulness of nature can be located in the small village of Súðavík. It comes with space to accommodate eight people in four bedrooms, alongside a gorgeous terrace, outdoor furniture and views over the ocean and nearby mountains. Súðavík is only about a 20-minute drive from Ísafjörður.

Another option is Blómsturvellir Westfjords Holiday House, also found in Súðavík village. A little further out in Bolungarvík, you'll find  this medium size property, complete with easy access to the town's cafés, thermal pool and great walking trails.
Oddsskard Ski Resort
Oddsskarð Ski Resort is found in an area colloquially termed the East Iceland Alps, close by to the Oddsskarð area's tunnel between Eskifjörður and Neskaupstaður.

In total, this ski resort covers 9 km of trail, the longest of which is 840 metres. Three lifts cover the full resort and are able to transport 2000 people per hour up the slopes. With Oddsskarð Ski Resort only partially illuminated, there are a number of exciting back trails that are open in fortuitous weather conditions.

Accommodation Options Near
But what of accommodation choices? Nearby properties include Mjóeyri Cottage and Mjóeyri Cottage 2, both of which can be found in Eskifjörður town, East Iceland. These comfortable one-bedroom cabins come fully furnished with internet access, a television and spacious living areas. Each cabin also has their own balcony and porch, both of which provide a staggering perspective of the surrounding landscape.

Other options, though found further to the west, are Klettakot cottage and Sólbakki, both located near Egilsstaðir town. Klettakot sits in a secluded corner, five minutes from the town centre, and it overlooks a lakeside beach and heath-covered cliffs. The property itself is comprised of two bedrooms, a well-equipped kitchen, and BBQ on the terrace.

The latter, Sólbakki, is a summerhouse with a sun deck and built-in jacuzzi. The home has two small bedrooms, compact kitchenette and is ten minutes drive away from Egilsstaðir, whereupon guests can find a supermarket, outdoor swimming pool and restaurants.
Hlidarfjall Ski Resort
Amidst the beauty of Eyjafjörður fjord, Hlíðarfjall is considered the number one ski resort in Iceland; it has even been voted as one of the top 12 exotic ski resorts in the world by Lonely Planet.

Three tow lifts make getting to each of the resort's levels a piece of cake, and guests travelling all the way to the top one will find themselves facing truly exhilarating runs.

From the highest departure point in winter, experienced skiers and snowboarders can ride all the way from the mountain summit right into Akureyri city centre.

Accommodation Options Near
Akureyri is, without doubt, the best choice for accommodation when it comes to keeping close to Hlíðarfjall Ski Resort.The perfect place for those who want to stay near the mountain then there are Cabins for rent just next to the mountain at Hrimland Cottages. Then there is Casa Magna, a property capable of sleeping 8 people, is one of the most luxurious options available in the area; the living room has a stunning fireplace, and the terrace comes with a hot tub and patio furniture.

This comfortable apartment in Akureyri comes with a flat widescreen TV, with added Netflix access, and can sleep up to two people, all while providing free Wifi access. There is also free parking out the front of the house. A final option could be the 2-bedroom Akureyri Cottage, furnished with a spacious living room and hot tub access.