Reykjavík, Iceland's capital and only true city, is the heart of the country. Founded by the settler Ingólfur Arnarson, Reykjavík has been central to the country's history and culture ever since. For all travellers coming to this incredible island, therefore, it's helpful to know what to do and where to stay in Reykjavík.

Today, Reykjavík is renowned for its arts, music, architecture, cuisine, museums and nightlife, as well as being the gate to Iceland's magnificent wilderness.

When considering what to do in Reykjavík, your options are truly endless. Countless tours leave the city, taking excited guests on adventures such as glacier hiking and whale-watching, or else sightseeing around beautiful regions such as the South Coast and Golden Circle. Within the capital itself, days can be spent poring over the galleries and museums, and admiring the wonderful feats of architecture.

When it comes to where to stay, however, the situation can be a little more challenging. Most guests wish to immerse themselves in the country's nature, while still being close to all necessary comforts and amenities. Many will simply look for a hotel or hostel in the capital that will serve as a place to leave their bags and crash after a long day, but they are missing out on the many quaint and cosy cabins available for rent.

Reykjavík has incredible nature on its doorstep in three directions, with the volcanic, lunar landscapes of the Reykjanes Peninsula to the southwest, the Blue Mountains to its east and idyllic countryside and coastlines to its north. Many cottages, farmhouses and log cabins are available, nestled within these landscapes, boasting incredible views, home comforts, and quick, easy access to the capital.

The city is also rather spread out, meaning you can find bungalows for rent in some of its outlying towns that are equally immersed in the nature, the wilderness a mere walk away.

Even if you are happy to head out into the countryside during the days and remain in Reykjavík each night, hotels and hostels need not be your only option. There are many excellent and affordable apartments for rent right in the downtown area, some stylish and modern, others historic and rustic.

What to Do and Where to Stay in Downtown Reykjavik

The one disadvantage of staying in central Reykjavík is that you won't be waking up in Iceland's natural landscapes; everything else is a plus. From morning until night (or early hours, if you want to check out the nightlife) you can make the most of this eclectic capital, and you won't even need to rent a car to do so.

If staying a day or more in Reykjavík, it's highly recommended to purchase a Reykjavík City Card. Valid for 24, 48 or 72 hours, these cards grant you free admission to many museums and galleries, free passage to the beautiful island of Viðey, and significant discounts across the city. This way, you can learn about Iceland's culture, history, folklore and nature without worrying about costs.

It may be a good idea to consider a Reykjavík sightseeing or culture tour beforehand, to get to know your way around the capital, to see its incredible architectural sites such as Hallgrímskirkja church and Harpa Concert Hall, and to discover which places you want to come back to.

As you'll be spending the evenings in Reykjavík, be sure to check out the local restaurant scene; Iceland's cuisine is increasingly world-renowned, tending to use fresh, native ingredients in innovative new ways. Following a delicious meal, why not check out the local bars to catch some live music, DJs, stand up comedy, burlesque or drag?

Finally, you should seek to spend some time out in Iceland's nature. Thousands of day tours from dozens of operators leave the city every morning, and many will pick you up from a location close to your accommodation for your convenience.

Sightseeing around the Golden Circle, snorkelling between the tectonic plates and riding an Icelandic horse are all popular throughout the year. Seeing the Northern Lights and descending in a magma chamber are examples of once in a lifetime opportunities available in winter and summer respectively.

To make all of this easily accessible, many Icelanders offer apartments in the central area as alternative places to stay in Reykjavík, many of which are rather luxurious.

This Two Bedroom Apartment, for example, boasts a chic modern style, with elements of Iceland's natural landscapes woven into the clean design, and it is located right in the downtown area; it also has a comfortable balcony so you can peacefully watch over the hustle and bustle below. Though perfect for single and couples, the apartment is spacious and there is a fold-out double bed for an extra pair if needed.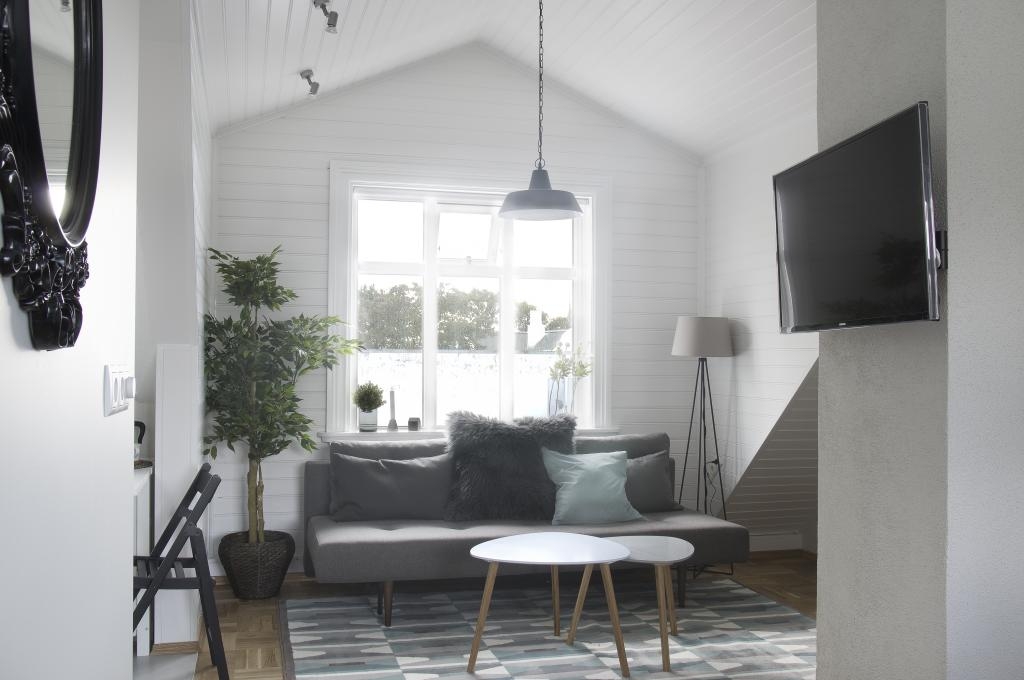 While most central accommodation comes in the form of flats and apartments, there are options for larger groups; this Three-Floor Holiday Home sleeps between twelve and fifteen, and comes with many amenities on all levels, making it perfect for large family gatherings and groups of travellers. It is located between the downtown area, main shopping street of Laugavegur and National Gallery of Iceland, making it the perfect place from which to explore the capital.

Those seeking a more unique and cultural experience have a fantastic opportunity to rent out one of the oldest buildings in Reykjavík. This Historic House was built in 1882, as is clear in its traditional, rustic design. Located in Vesturbær right by the downtown area, it is an excellent place to stay for those seeking a firsthand feeling of this city's long and fascinating history.

Of course, the house still comes with modern amenities such as wifi and a dishwasher. Due to its size, it is only available to solo travellers and couples.

These apartments and houses are excellent options for all who want to get to know Reykjavík and want easy access to Iceland's nature, all without having to a car or use the public bus system. Those who have no problem with taking one of these two options, however, will find a broader range of accommodation to choose from, allowing them to stay in cabins and cottages immersed in beautiful landscapes.

What to Do and Where to Stay in the Reykjavik Outskirts

Reykjavík itself has about 130,000 people, but the wider capital area boasts around 100,000 more, spread across five towns and a village. Staying in one of these areas still grants you easy access to Reykjavík, but brings you closer to nature, and provides opportunities such as Northern Lights hunting by foot in winter, and hiking beneath the midnight sun in summer.

What to do on the outskirts of Reykjavík depends entirely on where you are. Seltjarnarnes, for example, boasts a beautiful nature reserve that is a must-see for all birdwatchers, as well as the Grótta lighthouse, a fantastic location from which to hunt for the aurora. Hafnarfjörður has a beautiful harbour worth exploring, as well as a wealth of elf-culture for those curious about Iceland's fascinating folklore. Mosfellsbær, meanwhile, boasts both coastal beauty and idyllic countryside, with many opportunities for horse-riding.

The luxury cabin of Heytjörn is located east of the town of Kópavogur and south of Mosfellbær, about twenty minutes drive from the city centre. It sits in a beautiful natural location overlooking a river, in the shadow of the magnificent Blue Mountains, which are renowned for their fantastic ski-slopes. The closest peaks of Hafrafell and Úlsfarsfell are popular for hiking, biking, ATV and buggy tours, and birdwatching, and the cabin also boasts a hot tub.

Heytjörn can sleep up to four people, so those with larger families or groups may wish to look to the Blueberry Hills Villa instead, which sits rather close by and sleeps eight. This beautiful cottage, designed by renowned architect Kjartan Árnarson, is surrounded by lupins and wild berries throughout summer, and within easy walking distance of spectacular lakes and forests. In winter, it becomes enveloped in a blanket of snow that kids will love to toboggan around.

This Summerhouse in a City is the most conveniently located to Reykjavík, and though slightly less immersed in the countryside, borders the Heiðmörk Nature Reserve, one of the country's most popular recreational areas due to its abundance of birdlife and flourishing flora. The cottage sleeps four, and has a geothermally heated hot tub.

All of these options, and many more, boast a perfect combination of convenience to Reykjavik and isolation in nature. A short drive or relatively uncomplicated bus journey is all that is between you and the capital, and a short hike is all that separates you from the landscapes. Still, however, those renting a car in Iceland can base themselves even further away without missing out on the city's opportunities.

What to Do and Where to Stay in the Nature Around Reykjavik

As mentioned, there is incredible nature just outside the Greater Reykjavík Area, and a wealth of things to do within it. Thankfully, there are also many far-flung cottages and bungalows that will allow you to have all of this at your fingertips.

To Reykjavík's west is the Reykjanes Peninsula, a stretch of land lined with cone-shaped volcanoes, dotted with geothermal areas, surrounded by a dramatic coastline and covered in twisting, moss-coated lava. It appears to be from another world, and represents the destructive power of Iceland's nature on its fragile landscapes.

There are a wealth of things to do on the Reykjanes Peninsula. The many eruptions here over history have created some incredible geological formations, such as the Leiðarendi lava tube, which can be explored on a caving tour. The hot-spring areas of Gunnuhver and Seltún are awe-inspiring examples of the country's geothermal forces, and the Krýsuvíkurbjarg birdwatching cliffs are dramatic and full of life in the summer.

The most well-known feature of the peninsula is the Blue Lagoon Spa. This world-renowned retreat exceeds the expectations of thousands of guests a year, with its azure waters, healing silica masks and array of different natural therapies. The Lagoon is a driving factor for many when deciding where to book their holiday, so make sure you get your tickets well in advance if planning a visit.

To immerse yourself in the lunar landscapes of Reykjanes, be close to all the aforementioned features, and stay somewhere with the air of abandonment that encapsulates the region, renting a cottage comes highly recommended.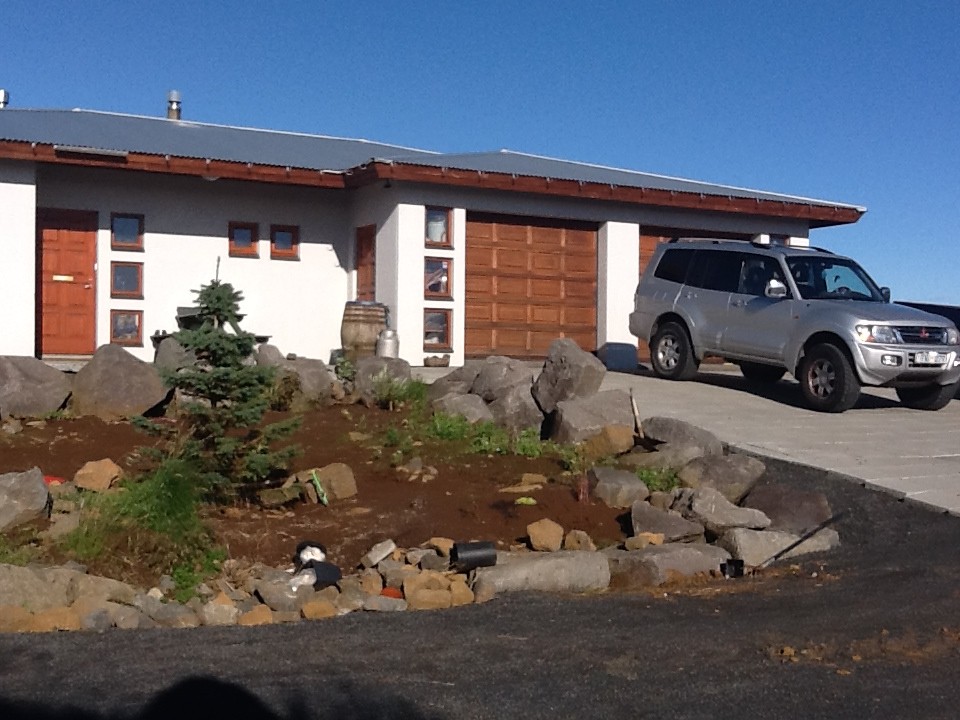 This Villa in Vogar is excellent for families, sleeping up to eight. It has all the modern amenities and home comforts you may require, and a fantastic location overlooking the peninsula's northern shore. This grants some incredible views over Faxaflói Bay, all the way to the Snæfellsnes Peninsula in clear weather. The villa is only half an hour or so from Reykjavík.

If you don't mind staying a little further afield, this Cottage on the Tip of the Peninsula may be the perfect choice. Located in an uncharacteristically green spot, surrounded by trees, it also boasts views out towards Snæfellsnes. The area has a wealth of birdlife, and is close to the oldest lighthouse in the country, Reykjanesvíti.

Both of these villas are in remote enough locations that you have an excellent chance of seeing the Northern Lights in winter.

Another excellent place to stay, particularly for travellers who love the great outdoors, is at Mount Esjan, north of Reykjavík. Quite the contrast to the Reykjanes Peninsula, this mountain is verdant with forest, grass and wildflowers, making it another popular hiking spot for those from Reykjavík. There are five Converted Buses are on site, each sleeping four, for a quirky, cosy, quasi-camping experience.

Mount Esjan is just 21 kilometres from Reykjavík, and can be reached by the city bus system.

Head north of Mount Esjan and you begin to enter the fertile countryside of west Iceland. This area boasts some amazing things to do, such as hiking to Glymur, the country's second tallest waterfall; witnessing the highest flowing hot spring in Europe, Deildartunghver; and learning about the nation's past in the historic towns of Reykholt and Borgarnes.

It is also home to the enormous Langjökull glacier, where you can take snowmobiling tours or excursions into a man-made tunnel carved into the ice.

While some of these sites are several hours of Reykavík, there are a number of places to stay in the beautiful countryside that will shorten your journey to them, and are close enough to the capital for convenience.

Solvellir One and Solvellir Two, for example, sit just shy of the Hvalfjörður Tunnel, which leads to most of these destinations, and they are surrounded by spectacular nature. Their isolation makes them perfect for any seeking to look out for the auroras on a clear winter's night, as they are the only two buildings around, leading to little light pollution. Though the houses do not have hot tub, the former has a sauna.

If travelling with a large group, you could also consider this Charming Farmhouse, located in the same area, which sleeps up to thirteen and gives you an authentic taste of rural living in Iceland. It also boasts magnificent views over the gleaming fjord of Hvalfjörður.

To conclude, there are endless opportunities for adventure, relaxation and culture in and around Reykjavík, and a wealth of fabulous apartments, cottages, guesthouses and bungalows that will allow you to enjoy the city to the maximum. Whether you want to stay in the bustling downtown area or the serene surrounding nature, it could not be easiest to tailor a holiday here that meets your every need.