Cabins in Iceland | Unique Accommodations for Your Vacation
Where can you stay on your holiday where you are immersed amongst nature, without people or traffic for miles around? Are there cabins in Iceland that will meet your needs? Where can you find cabins in Iceland that will best suit you on your travels? Continue reading to learn about how cabins can make your vacation more unique, comfortable, and rewarding.
Huge swathes of Iceland are uninhabited; it is one of the least densely populated countries on earth. These empty regions are incredibly diverse; in certain parts of the country, you'll be surrounded by brightly colored rhyolite mountains, while in others, there will be endless lava fields as far as the eye can see. Some areas of the nation are verdant and forested, contrasting with the desert-like stretches of black sands and the rocky, cliffy coasts.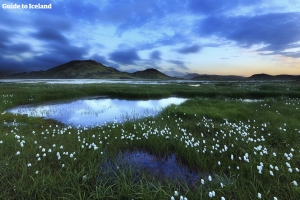 Most people come to Iceland for this reason. They want to see incredible and diverse scenery, and they seek to find the nature untouched and uninhabited so that they can truly connect with it. The best way that anyone can do this is not to stay in a hotel and take day tours out, but to stay in accommodations far-flung across the country. The most isolated, cosy and immersive options are cabins.
There are a wealth of cabins to be rented all across Iceland, many of which are open throughout the year. They come in a range to suit all budgets, from the simple and very inexpensive, to the lavish and luxurious. Some are tailored to hold larger groups; others are perfect for couples and solo travelers.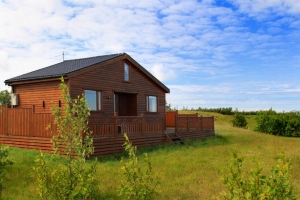 This article will guide you through a variety of these options, showing you the many opportunities you have to stay somewhere charming and unique, far from urban areas and crowds. Continue reading for the shortlist of great cabins in Iceland, based on the levels of luxury.
Quality Cabins
While cabins may be perceived as a little poky and simple, in Iceland there is a range of choice that suit those on a higher budget. Luxurious, spacious log cabins have much more charm than a hotel, meaning you don't have to miss out on any comfort by choosing to stay in one for some or all of your holiday. The most expensive cabins usually come with hot-tubs, incredible locations, and fully furnished kitchens, bathrooms and living area. Below, are five from all around the country worthy of consideration.
Charming LUXURIOUS family Log cabin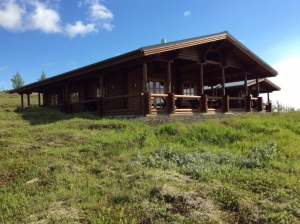 Charming Log Cabin is a grand, modern log cabin, with all the facilities anyone could ask for. It has a private hot-tub, geothermal heating in the floor, a terrace, a main house and a guesthouse. With space for up to eight inhabitants, it is the perfect choice for a family or larger group who want to be immersed in the nature without sacrificing any of their amenities.
The view from the terrace and windows is beautiful; The Charming Log Cabin is located near Fluðir in Iceland's southeast, and looks across verdant, rolling countryside to the dramatic mountains of the Highlands. Its position is perfect for those who want to see as many highlights of Iceland as possible, as it is only twenty minute's drive from the Golden Circle, just over an hour from the waterfall Seljalandsfoss in the South and the capital Reykjavík, and about three hours from the Snæfellsnes peninsula.
Stóraborg
Closer to the Snæfellsnes Peninsula, near the historic town of Borganes, you can find Stóraborg, another luxurious cabin. Like the Charming Log Cabin, it is easy to access many of Iceland's great sites from by car from here, including the Golden Circle, capital city, and Glymur, Iceland's second tallest waterfall and the tallest that is easily accessible.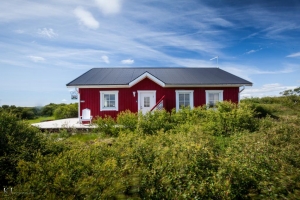 Stóraborg has an outdoor terrace complete with a hot tub and barbeque, three spacious bedrooms, and a fully equipped kitchen. It holds up to six people at a time. It stands surrounded by beautiful nature, with forested areas dotted around it to add to the privacy. It is close to the coast of the fjord Hvalfjörður, where you can attain spectacular views over the ocean and mountains.
Eyja
The cabin of Eyjar is the height of luxury; with eight bedrooms and the capacity for sixteen guests, it is an excellent getaway for a large group who do not want to skimp on luxury, and who want to be far out in the nature. It is located in Iceland's East, in the valley of Breiðdalur, and the scenery is almost otherworldly; you can expect to see a sparkling ocean surrounded by imposing mountains which can reach up to 1,100 meters tall. The area also has forested patches, and beautiful rivers popular among those who like fishing.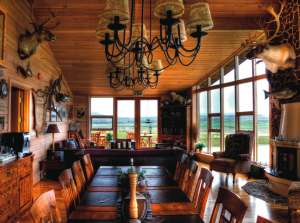 Eyjar has an incredible view over the fjord from its outdoor terrace, which is equipped with a hot tub. Within the house, the decor is opulent and grandiose, the kitchen is well-equipped and spacious, and the bedrooms are rustic and cosy.
Hrímland
Hrímland is located in North Iceland, between Akureyri and the nearby ski-slopes of Hlidarfjall mountain. It is located above 'the capital of the North', and with nothing in its way, it allows for incredible views over the town. While not quite as immersed in the nature as the above options, it also overlooks Eyjafjörður, a great, stunning fjord, and the enormous mountains of the Tröllaskagi peninsula.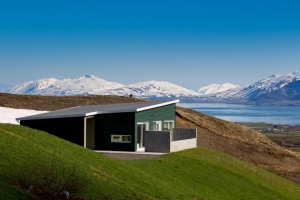 The lodge has three bedrooms, and sleeps up to eight; one of the rooms has two bunk beds, making it great for families. It has two bathrooms, a fully equipped kitchen, washing and drying facilities, and, of course, a hot tub on a terrace where you can bask after a long day. This location is brilliant for avid skiers, due to its proximity to the country's most popular slopes, and for those who want to explore northern sites such as Lake Mývatn and the whale-watching capital of Europe, Húsafell.
Unastaðir
Unastaðir is located in a rural location in Iceland's south, right on the edge of the magnificent Highlands. Surrounded by untouched nature, being 10 kilometres down a gravel road, there is nothing but expanses of lava fields, verdant hills, gushing rivers and dramatic mountains. It is within view of Hekla, a notorious yet beautiful volcano.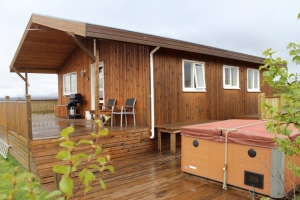 Like the other luxury options, Unustaðir has a hot tub on its terrace, as well as barbecuing facilities. It houses up to six people in three rooms, and its decor is traditional, cosy and charming. The cabin is 20 kilometres from the nearest settlement, Hella, and is a perfect destination for those who want to explore the length of the South Coast and the Highlands.
Comfort Cabins
While the cabins listed above may be out of the price range for many, there are plenty of other choices where you can experience clean, comfortable, private living for a reasonable cost, at the sacrifice of things like opulent decor. Most still have spectacular views, and some also still have luxuries like private hot tubs.
Cedar Log Cabin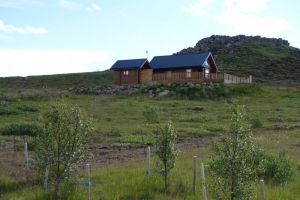 The Cedar Log Cabin is a higher-end comfort cabin, in a stunning, isolated location, with a hot tub and a barbeque of its own. It is fully furnished, rustic in its style, and can lodge up to six people at once. The cabin sits atop a hill and has spectacular views of verdant countryside, rivers, lava fields and mountains.
Located in Iceland's south-east, just over ten minute's drive from the town of Selfoss, it is perfectly positioned for those who want to see a wealth of features in West Iceland. A short drive North will bring you to Þingvellir National Park, the first of the three sites of the Golden Circle; a drive South-West will bring you to Hveragerði, where you can hike to natural hot-springs and a geothermally heated river; and a drive to the East will bring you to Sólheimar Ecovillage. It is also a great location to set off exploring the South Coast.
The Summer Cottage in Eyjafjörður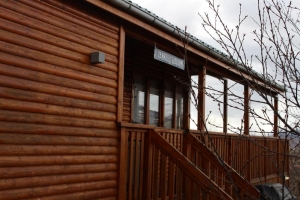 For a comfortable, affordable log cabin in North Iceland, this summer cottage in Eyafjörður, just fifteen minute's drive South from Akureyri, has everything you need. Sleeping accommodation for six, with the option to fit another six in the loft area on mattresses, make it a great choice for families and larger groups. It also comes with a hot tub of its own on the patio and a trampoline in the garden for the young and young-at-heart.
The summer cabin has trees surrounding it, helping to add to the feeling of seclusion many come to Iceland hunting for. Beyond the trees are magnificent views of Iceland's north, including the mountains of the Tröllskagi Peninsula.
Hálsaból
The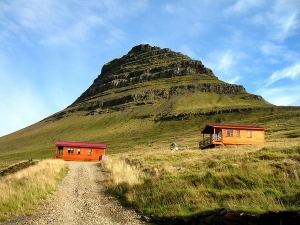 two cabins of Hálsaból, on the Snæfellsnes Peninsula, are excellent choices for a cabin that put you right in nature. The only other buildings in the area are each other; the views from both, from atop a hill and at the foot of a mountain, are breathtaking. Each cabin has three bedrooms, housing eight, and a hot tub each. There is also a communal playground for the little ones.
The location of Hálsaból is perfect for exploring the Snæfellsnes Peninsula. It is just ten minutes drive to the iconic Mount Kirkjufell, the most photographed mountain in Iceland, half an hour from Snæfelljokull National Park, and the same distance to the historic town of Stykkisholmur. For all amenities, the cabins are located just three kilometres from the charming fishing village of Grundafjörður.
Sólbrekka
A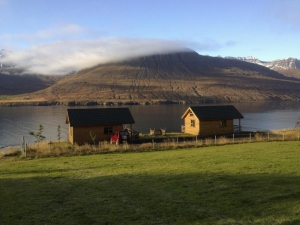 nother two cabins that sit alone in an incredible landscape are those named Sólbrekka in the East Fjords. They both sit right near the edge of the water at the remote and breathtaking Mjóifjörður, approximately an hour's drive from the nearest settlement, which is also region's largest town, Egilsstaðir. These cabins are in fact so far-flung you will want to be fully stocked with food and such before arrival, as it will be quite a schlep to replenish supplies.
This is part of the beauty of the East Fjords, however; second to the Westfjords, they are Iceland's most sparsely populated and little-visited regions, allowing you to connect with nature far from the urban bustle and tourist crowds. Staying in the East Fjords also allows you to see a variety of wildlife that may be harder to find across the rest of Iceland; the waters around here are home to many seals and cetaceans such as orcas, and the cliffs have many nesting puffins. It is one of the easiest places to spot Arctic Foxes and the only place to find reindeer.
---
---
Thurranes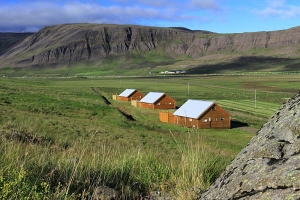 Located on the cusp of the Westfjords are three cabins called the Thurranes Cottages, which sit alone in a vast rural area. The views from them are beautiful, going over rolling countryside to the sparkling waters of a fjord to the north, and ancient mountains rise in all other directions. It is thirty minutes drive to any settlement with decent amenities, the village of Reykholar, so once again, it's important to stock up before going.
The Thurranes Cottages have two bedrooms each, housing up to six people. Each comes with its own hot tub, protected with privacy fences from each other, a barbeque, and a well-stocked kitchen with a gas stove. They are so rural that it is very common throughout summer for Iceland's free-roaming sheep to be found wandering beneath the windows.
Budget Cabins
The options listed above are brilliant for those with a little extra to spend, who prioritise creature comforts and special extras over saving money. Those who want to see as much of Iceland as possible on a budget, however, are not excluded from the cabin-renting market. There are still options over the country where you can stay far out in nature, with all amenities that are needed, without breaking the bank.
Réttarsel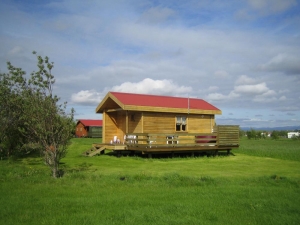 Réttarsel is an affordable cabin beside the village of Hella in South Iceland. Hella is located between Selfoss and Hvölsvollur, making it a perfect base to explore Golden Circle and the sites of the South Coast, such as the volcano Eyjafjallajökull.
Although it is not the only building in the surrounding area, and you are likely to see other people wandering about, it is still in a beautiful, rural location, surrounded by countryside and in view of some dramatic mountains. It is also very well equipped for its price; it has a hot tub on site, unlike most other budget cabins, as well as an indoor shower, a barbecue, and decent kitchen facilities.
Réttarsel can fit four people, although they have to sleep in one room, so is a little less private for families. Still, for just 13,000 ISK in Winter and 15,000 ISK during summer, the great price, excellent location, and unexpected wealth of facilities make it worth the minor sacrifice.
Gistihúsið Alviðru
The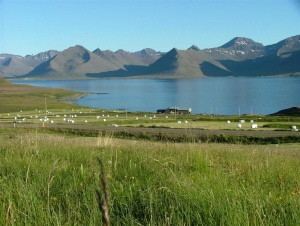 location of the cabin Gistihúsið Alviðru is almost unmatched. Sitting in a remote part of the northern Westfjords, it overlooks the incredible mountains, beautiful coastlines, and stunning oceans that make this part of the country so well-renowned. It is a perfect place from which to explore this beautiful region. Driving to the largest settlement in the area, Ísafjörður, takes just half an hour, and it is just over an hour to Dynjandi waterfall.
The cottage is small, described as like a studio apartment, but still has everything you need. There is a basic kitchenette with a stove, two beds set into the wall with privacy curtains, and a sofa; it can house up to four people, although won't leave a lot of room left. Even so, its location and its view more than make up for it, as does the cost; to rent in Winter costs just 10,000 ISK per night, and in summer 15,000 ISK.
Fjallagisting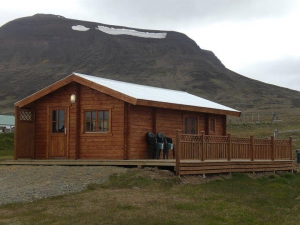 At just 10,000 ISK throughout the year, Fjallagisting is the most affordable cabin on this shortlist. Located on a far-flung farm in North Iceland, further North than the town of Skagaströnd, it sits on the bay Húnafloi. The ocean, and the mountains across the bay, are visible from the accommodation, across some fertile farmland, and more mountains can be seen inland. The farm on site has horses, sheep and pigs, all of which you will be able to meet during summer.
The cabin can accommodate four adults but is more comfortable for two adults and two children. All of the beds are in the same room, which is shared with a little kitchenette and dining area. There is a separate bathroom, with an indoor shower. Fjallagisting is one of the more remote places on this list, allowing you to immerse yourself in the nature, but still within driving distance of many great sights; it is about an hour to Hofsós, under two hours to Akureyri, and around three hours to Lake Mývatn.
Cabin – near the golden cirlce
Located ten minutes from Selfoss, close to the sites of the Golden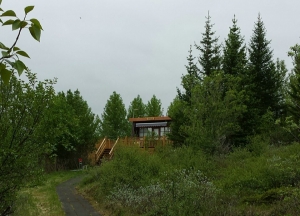 Circle, Hveragerði, Kerið crater-lake and Sólheimar eco-village, is the old cabin of Cabin – near the golden cirlce. It is very well-equipped for a budget cabin; it has four beds, a stocked kitchen, a fireplace, a barbecue, and a hot tub on the veranda. The one feature it does not have that the others do is an indoor shower; there is one sheltered outside, however.
The cabin´s position in the popular south-west of Iceland means it sacrifices the remoteness of the other locations in exchange for accessibility to the sites. There are a few other cabins and buildings around it, yet these are cordoned off by the trees surrounding the lodge. From the windows and patio, you will be able to see two beautiful mountains, Búrfell and Ingólfsfjall.
---
To conclude, the cabins around Iceland provide you with unique opportunities to immerse yourself in the nature, and are suitable for all group sizes and all budgets. No matter where you wish to stay in Iceland, you will find a lodge to suit your needs, the charm, isolation and beauty of which will only add to your holiday.
Those listed above are by no means comprehensive, but telling of the diversity, affordability, and number of cabins across the country. To enhance your stay in this incredible country, do not overlook booking one.