So, did our recent post on Iceland's traditional delicacies get your mouth watering? Here's a reminder, in case you missed it:
Well, there's a reason all those seemingly unpalatable foods have stuck around — they're tastier than you might think! But if your taste buds are looking for something with fewer sheep entrails, then here are a few ideas for you…
Kjötsúpa at Gullfoss
Kjötsúpa is another traditional Icelandic dish. It's so synonymous with the Icelandic identity that it could have very easily been been included alongside slátur, svið and hákarl. But it's also a dish that is, perhaps, more friendly to international palates. Kjötsúpa, literally "meat soup", is a rich lamb broth soup, replete with root vegetables, succulent lamb, and, sometimes, rice. It will warm you when those cold Icelandic winds are howling and keep your tummy happy for hours. While you won't be hard pressed to find kjötsúpa pretty much anywhere in the country, staying in a cosy cottage near the famed Gullfoss has the added perk of stopping in at the Gullfoss café for their undeniably delectable family recipe.
Ethiopian Food in Flúðir
When you think "small town in Iceland" it's not likely that you're also thinking "Ethiopian food", but that's just what you can dig into in the little village of Flúðir. Nestled alongside rolling hills and glowing greenhouses — Flúðir is a geothermal area and its greenhouses produce some wonderful veggies — is Minilik, a little Ethiopian restaurant opened in 2011 that serves traditional Ethiopian fare to hungry locals and visitors, alike. Haven't tried Ethiopian food before? Maybe a stay in a Flúðir cottage is just the occasion you've been waiting for!
Chocolate Soft Serve in Akureyri
So why go all the way to Akureyri for ice cream? Let's chalk this one up to tradition, too. Icelanders have a soft spot for soft serve and will lineup for the icy treat regardless of the weather, but in many shops you'll likely find only vanilla on offer. But at Brynja in Akureyri chocolate soft serve has been a staple for ages. And it's delicious! So chocolatey! So icy! If you're staying anywhere in the North — have you seen all the awesome cottages we've got in the North?— it's worth the venture into Akureyri for a taste of this chilly treat, no matter the weather.
Hotdogs… Everywhere!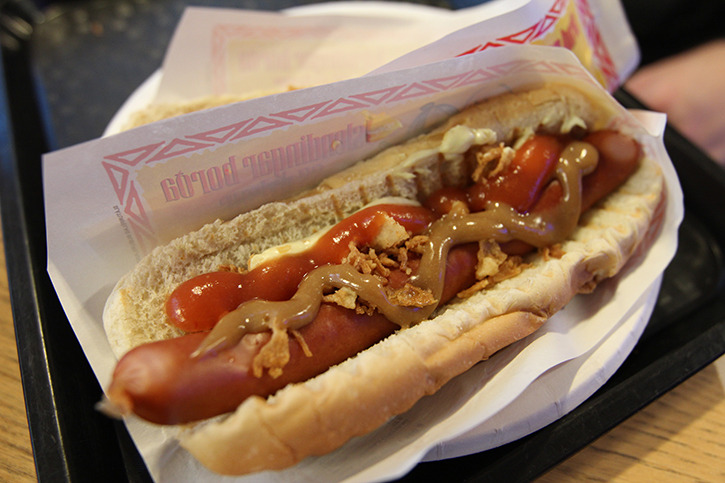 Rounding out our list of delicious eats: hotdogs! Hotdogs? Yes. Hotdogs. Icelanders love hotdogs. And while the world famous Bæjarins Beztu has done the trick for the likes of Bill Clinton and Charlie Sheen during their stays in Reykjavík, good'ole Icelandic doggies are plentiful all around the country… coincidentally, that's also where Bungalo has a  cottage just waiting for you! Order one with everything (eina með öllu) and be handed a dog loaded with ketchup, mustard, remoulade, and onions (fresh and fried). Better yet, book a summerhouse in, say, Vopnafjörður, and then just stop at every convenience shop between Reykjavík and the North-Eastern town trying out various condiment combinations until you've found the winner. Your taste buds will thank you!
Homecooking… Anywhere!
Here's a bonus item, and it's completely up to you. Because, let's be honest, anything you cook for yourself will taste like a gourmet meal when accompanied by views like these: